How Much Is China Really Devaluing Its Currency?
China had pegged its currency, the yuan, to the US dollar as it was a developing nation.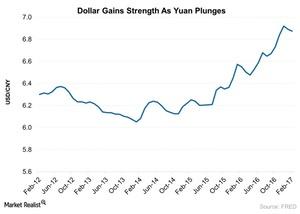 Why is China devaluing the yuan?
China had pegged its currency, the yuan, to the US dollar as it was a developing nation, which required it to keep reserves of dollars. As China (FXI) progressed in productivity and trade with the US (IWM) (IWF), the rate of exchange also needed to appreciate over time.
But there was resistance on China's part to adjusting its currency, and this led slowly to a massive trade surplus for the country. However, the yuan (YINN) (MCHI) has appreciated, after having shifted off the peg to follow the dollar loosely. In other words, China has been using its reserves to devalue its currency against the US dollar.
Article continues below advertisement
Article continues below advertisement
Impact on the US
As the US dollar has been gaining strength recently (UUP) (USDU) (UDN), a parallel effect can be seen on the yuan (CYB), which has appreciated the currency and made its exports expensive. The US Dollar Index gained ~4.6% in 2016. The Power Shares DB US Dollar Bullish (UUP), which tracks the US dollar, also gained ~3% in 2016.
Chinese authorities have thus been devaluing the yuan in an effort to maintain its competitiveness in international markets. In October 2016, the People's Bank of China (PBOC) set its USD-CNY fixing rate at a six-year low at 6.7379.
The continued devaluation will largely impact the already increasing trade deficit with the US and the appreciating dollar. US companies will also be affected by the devaluation, as it impacts its profits with its products getting expensive in local markets, and exports getting expensive in the international market. The companies likely to get affected include Apple (AAPL), Avon (AVP), General Electric (GE), and AT&T (T), which have been operating in China for several years.
In the next and final part, we'll examine the impact of China's financial holdings in the US.