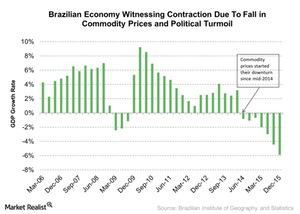 Why Is David Rubenstein Optimistic about Brazil?
Brazilian economy
The Brazilian economy is experiencing contraction due to a fall in commodity prices and the political turmoil in the country. The commodities market is one of the most important growth drivers for the Brazilian economy. Since Brazil is a commodity export-oriented economy, the fall in commodity prices since mid-2014 has affected its performance.
Brazil's rising political turmoil is leading to a negative performance for its economy. Several problems are affecting Brazil's performance. They include high inflation, stagnant economic growth, spiraling unemployment, high fiscal deficit, a deep recession, and downgrades from ratings agencies. You can read Potential Outcomes for the Geopolitical Situation in Brazil to know more about Brazil's current situation.
Article continues below advertisement
Rubenstein is optimistic about Brazil's economy
David Rubenstein of the Carlyle Group believes that Brazil's economy will perform well. According to him, the worst part is over, and the political turmoil may resolve soon. A recent reversal in commodities boosted the performance of the Brazilian index. As of May 13, 2016, the iShares MSCI Brazil Capped (EWZ), which tracks the performance of Brazil's economy, returned 60% from its low of $17.33 on January 21, 2016.
EWZ outperformed all the major developed markets (EFA), including the United States (SPY), Europe (VGK) (EZU), Japan (EWJ), and emerging economies (EEM) (VWO) such as China (FXI) and India (INDA). Read A Quantitative Look at Brazil's Recent Performance to find out more about what valuations indicate for Brazil.
Recently, Brazil's senate conducted an impeachment trial against President Dilma Rousseff, who has been charged with borrowing from state banks in order to cover up a government deficit. Rousseff has been removed from office, and the vice president, who belongs to another political party, will take over. If this political turmoil is resolved soon, the country could be one of the leading economies in Latin America (ILF).
For more information, read David Einhorn to Investors: Long General Motors and Short Caterpillar.