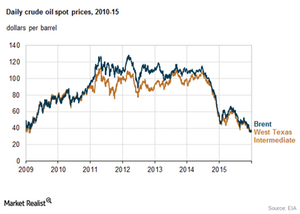 WTI and Brent Crude Oil Prices in 2015, Lowest since 2009
WTI and Brent crude oil prices in 2015
US benchmark WTI (West Texas Intermediate) crude oil prices averaged at $49 per barrel in 2015. WTI and Brent crude oil prices closed below $40 per barrel in 2015—the lowest level since 2009. US crude oil prices fell by 53% in 2015—compared to the previous year. They fell by 70% since June 2014, as we covered in the previous part of the series, along with the recent oil price action. Brent crude oil, the global benchmark, averaged $52 per barrel. It fell by 53% in 2015—compared to the levels in 2014. Crude oil prices fell due to excess supplies from the US to Russia and record global inventories. To learn more, read Why WTI Crude Oil Could Trade at a Premium to Brent Oil in 2016.
Article continues below advertisement
Consequence of lower WTI and Brent crude oil prices 
Lower oil prices impact oil producing companies' revenue like Hess (HES), Marathon Oil (MRO), Murphy Oil (MRO), Apache (APA), and EOG Resources (EOG). These companies have a crude oil production mix of more than 50% of the total production portfolio. So, it impacts the cash flow. We'll discuss this in more detail later in the series. However, lower oil prices increase refiners' profitability like Tesoro (TSO), Valero Energy (VLO), Alon USA Partners (ALDW), and Phillips 66 (PSX).
So, refiners start to increase the production of gasoline and distillate products. The rise in gasoline and distillate production leads to excess supplies if the demand isn't enough. It leads to a rise in the inventory. To learn more about inventories, read EIA Crude Oil Inventory: Key Catalyst in Bearish Crude Oil Market and Gasoline and Distillate Inventories Overshadow Crude Oil Market. In the next part, we'll discuss how it impacts the gasoline market.
Lower oil prices also led to a narrow Brent and WTI oil price spread. The Brent and WTI oil price spread averaged just below $4 per barrel in 2015 and $3 per barrel in 2014. Between 2011 and 2013, the Brent and WTI spread averaged $14 per barrel.
The ups and downs in the energy market impact ETFs and ETNs like the Vanguard Energy ETF (VDE), the ProShares UltraShort Bloomberg Crude Oil ETF (SCO), the VelocityShares 3x Long Crude Oil ETN (UWTI), and the First Trust Energy AlphaDEX Fund (FXN).