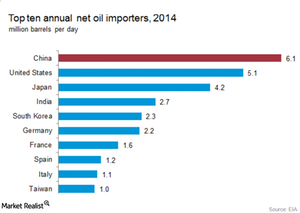 China's Crude Oil Imports: Bright Spot in 2016 Oil Market?
China's crude oil import estimates 
Lower oil prices, construction of strategic reserves, and demand from teapot refineries are driving the demand for crude oil despite the slowing Chinese economy. Chinese teapot refiners are eying the lower crude oil prices and higher crack spread. Market estimates from Bloomberg suggest that China's crude oil imports in 2016 may rise by 8% to 7.2 MMbpd (million barrels per day).
Article continues below advertisement
China's crude oil imports
The Chinese General Administration of Customs reported that China's crude oil imports averaged 6.6 MMbpd between January 2015 and November 2015. This was 8.6% more than during the same period in 2014. Chinese crude oil imports peaked at 7.4 MMbpd in April 2015. Most of the crude oil imported is going into Chinese strategic reserves and refineries.
China's crude oil inventory 
China's is expanding its strategic crude oil reserves to 100 days of supply. In 2016, the country is planning to add four more storage hubs to its eight existing reserves. The current crude oil inventory in China is 26 MMbbls (million barrels) and can support 29 days of supply.
The government's initiatives to meet the goal of 100 days of crude oil supply and demand from teaport refineries could boost China's oil demand in 2016. However, the weak Chinese yuan and slowing Chinese economy will be a hurdle for the oil market.
Lower oil prices affect oil producers like Apache (APA), Marathon Oil (MRO), Murphy Oil (MUR), and Hess (HES). On the other hand, the wider contango market and record crude inventory benefit oil tanker companies like Frontline (FRO), DHT Holdings (DHT), Teekay Tankers (TNK), and Euronav (EURN).
Uncertainty in the energy market also impacts ETFs like the Fidelity MSCI Energy Index ETF (FENY) and the ProShares UltraShort Bloomberg Crude Oil ETF (SCO).
In the next part of this series, we'll explore how Russian production is influencing the crude oil market.