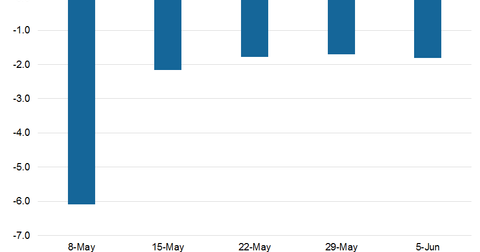 US Equities See Outflows for the 11th Consecutive Week
By Robert Karr

Updated
Consistent outflow
In the week ending June 5, US equities (SPX) witnessed net investment outflows for the 11th straight week. The total outflow during the week stood at $1.8 billion—higher than the previous week's $1.7 billion. The equity outflow has mainly been due to high valuations, a looming rate hike, and growth peaking at the current levels.
Macroeconomic data on indicators, like employment numbers and the trade deficit, showed improvement. However, the global markets were impacted by the delay in Greece's solution. They were also impacted by the ECB (European Central Bank) President's, Mario Draghi, statement on volatility.
Mutual fund companies like T. Rowe Price (TROW), American Funds, Vanguard, and Janus Capital Group (JNS) will likely be negatively impacted by the decline in investment.
Article continues below advertisement
ETF investment outflows
The ETF market grew significantly over the span of just a decade to total more than $3 trillion. US equities represent more than 65% of the total allocation.
In the week ending June 5, the SPDR S&P 500 (SPY), the iShares Core S&P 500 (IVV), and the iShares U.S. Real Estate (IYR) witnessed a combined net outflow of $3.3 billion. Investors pulled money from the index, bond markets, and real estate.
ETF investment inflows
The ETFs that attracted investments during the week include the iShares Russell 2000 (IWM), the iShares Core S&P Mid-Cap (IJH), the PowerShares QQQ (QQQ), and the Vanguard FTSE Developed Markets (VEA). Together, these funds attracted $3.1 billion in investments.
Midcap and developed markets attracted investment backed by positive indicators in these sectors. Asset managers including BlackRock (BLK), State Street (STT), and Vanguard are the major players in these ETFs.