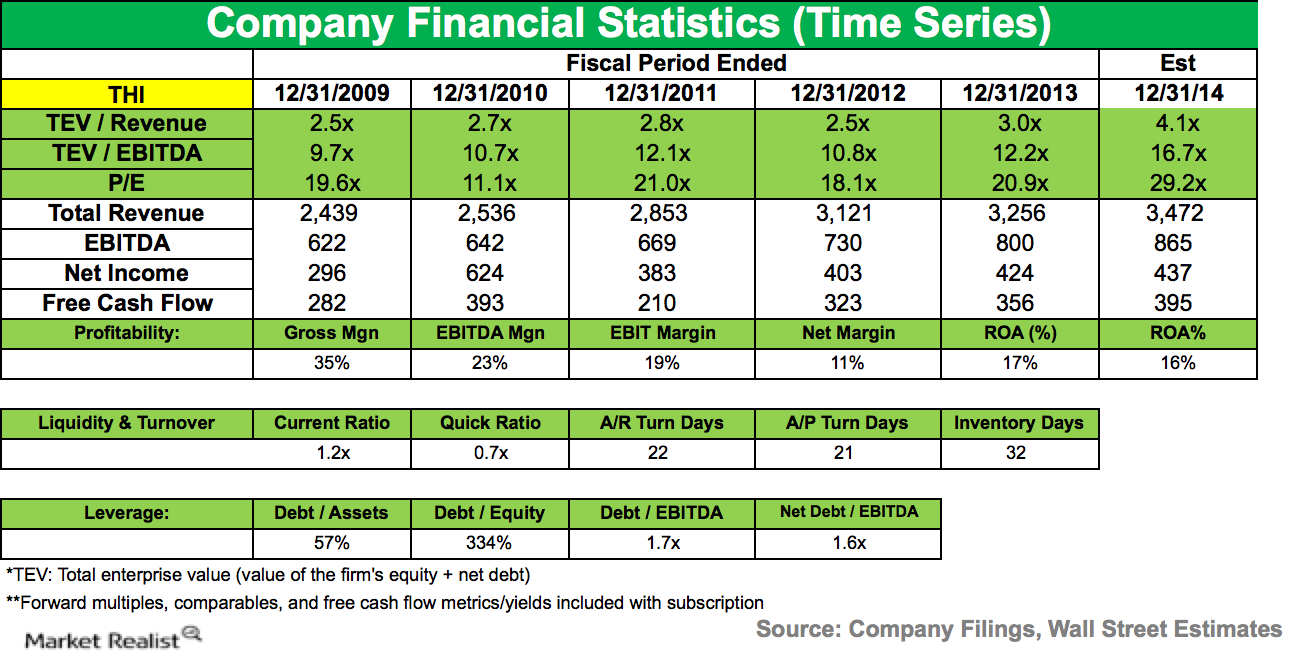 Farallon Capital initiates position in Tim Hortons
Tim Hortons position
Farallon Capital Management started a new position in Tim Hortons Inc. (THI) during the third quarter of 2014. The position accounted for 2.62% of the fund's 3Q14 portfolio.
Article continues below advertisement
Article continues below advertisement
Overview of Tim Hortons
Tim Hortons is Canada's largest food service company. About 80% of the company's more than 4,500 quick-service restaurants are in Canada, and the remaining 20% of restaurants are in the US. THI is known for its coffee and doughnuts.
Burger King's acquisition of Tim Hortons
On December 9, 2014, THI's shareholders approved the purchase of the company by Miami-based Burger King Worldwide (BKW) for $11.4 billion. THI investors will receive 65.50 Canadian dollars in cash and 0.8025 Canadian dollars per share of the combined entity for each share they own.
The combined company will be called Restaurant Brands International. It will trade on the New York Stock Exchange and the Toronto Stock Exchange. The new company will become the world's third-largest restaurant operator after McDonald's Corp. and Yum! Brands Inc. Restaurant Brands International will operate 18,000 stores with $23 billion in system-wide sales.
THI said, "As part of Restaurant Brands International, Tim Hortons will remain an independent brand, but with significant opportunities to accelerate brand development around the world."
Burger King will also benefit from lower taxes under the so-called "tax inversion" after the company relocates its domicile to Canada.
Article continues below advertisement
3Q14 results
THI's overall revenues for the third quarter increased 5.2% year-over-year to 835.9 million Canadian dollars. Higher average unit volumes from the breakfast daypart drove the 6.8% growth in US same-store sales. Same-store sales in Canada rose by 3.5% mostly because of average check and the launch of premium products.
Also during the third quarter, adjusted operating income grew by 15.5% and adjusted earnings per share was up 25.2%. The company declared a quarterly dividend of 0.32 Canadian dollars per share.
Digital strategies
During the third quarter, THI launched its Double Double co-branded credit card in Canada. This two-in-one payment card allows a customer to earn 1% Tim Cash for every purchase.
Tim Hortons also introduced a new mobile application called TimmyMe. Customers can use it to pay for their orders. THI claims that it's the first company in the industry to have a payment system that works on all four mobile platforms—iOS, Android, Windows, and Blackberry.
For more details on THI's third-quarter results, please read Tim Hortons' year-to-date returns as of November 2014.
Farallon's other 3Q14 activities
During the third quarter, Farallon Capital Management also started new positions in Time Warner Inc. (TWX), International Game Technology (IGT), and Cognizant Technology Solutions (CTSH). The fund increased its positions in DIRECTV (DTV), Covidien plc (COV), Allergan Inc. (AGN), and Shire plc (SHPG). Positions sold by Farallon during the third quarter include Yahoo! Inc. (YHOO), Oracle Corp. (ORCL), and Weyerhaeuser Co. (WY).
The next part of this series will explore Farallon's new position in International Game Technology.