Should You Bet on Chinese Stocks BABA and DIDI After the Crash?
The sell-off in Chinese stocks has intensified. Alibaba (BABA) and DiDi Global (DIDI) opened lower on July 23. DIDI has especially been under pressure since it was listed in June. What's the forecast for Chinese tech stocks amid the crackdown? Do DIDI and BABA look like good buys after the crash?
Article continues below advertisement
BABA stock has been under pressure since the fourth quarter of 2020 when it was targeted by Chinese authorities. The company's co-founder Jack Ma made critical comments against the country's regulators, which didn't sit well with the government. Ma wasn't seen in public for weeks after the outburst, while Ant Financial's IPO was shelved. BABA holds a third of the stake in Ant and a listing would have helped in value unlocking.
BABA and DIDI have fallen due to China's crackdown.
For DIDI, the troubles are more recent and started shortly after its listing. In BABA's case, it was Ma's outbursts combined with antitrust concerns that led to the crackdown. The company agreed to pay a record fine of $2.8 billion. There are hopes that Ant's IPO might be back soon even though we don't have a strict timeline.
Article continues below advertisement
DIDI's troubles look deeper and China is concerned about the massive amount of data it has on Chinese citizens. The country fears that the data could be shared with foreign governments since it's listed on U.S. markets. Also, DiDi's two major stockholders, SoftBank and Uber, are foreign entities.
Article continues below advertisement
BABA stock looks undervalued.
From a fundamental perspective, BABA stock looks attractive. It trades at an NTM PE multiple of around 22x, which is near the lowest level since it was listed in 2014. The company's outlook also looks positive considering the growing e-commerce sales in China. BABA's cloud operations have turned positive on the EBITDA level and could be a value driver in the long term.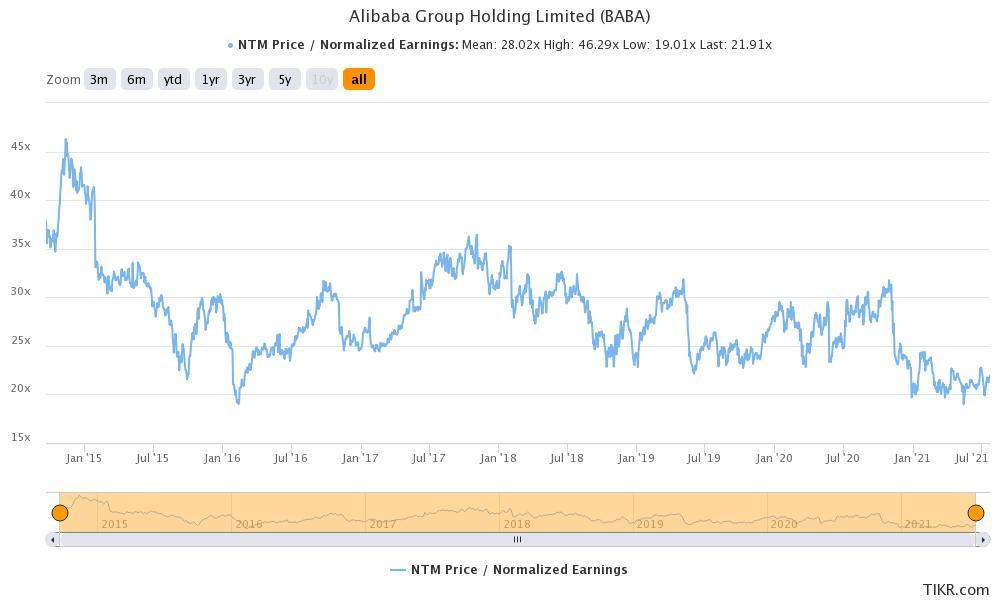 Article continues below advertisement
Will BABA stock go back up?
BABA stock can go back up if China goes slow on the tech crackdown. However, the current leadership seems to be concerned about the rising clout of tech companies and looks willing to sacrifice their global standing. After the fine and Alibaba's reconciliatory tone, the worst seems to be over for BABA stock and it should go back up in the medium to long term.
BABA stock forecast
Wall Street analysts have a positive forecast for BABA stock and its median target price of $284.71 implies an upside of 33 percent over the current prices. Most analysts are bullish on the stock considering its strong growth outlook and tepid valuations.
Article continues below advertisement
Will DIDI stock fall more?
DIDI's troubles seem far from over and reports suggest that it might have to pay an even bigger fine than BABA did. The stock is in uncharted territory. There are concerns about how much of a fine China will impose on the ride-hailing company.
Article continues below advertisement
Unlike the U.S. where companies can challenge executive diktats, Chinese companies don't have the privilege and have little option but to accept the orders. DIDI stock could fall more in the near term as markets are apprehensive about its future.
Article continues below advertisement
DIDI stock forecast
According to the data from CNN Business, DIDI has a median target price of $21.86. The stock could more than double if the forecasts turn out to be true. That said, these target prices were issued before China's crackdown, which has changed the fundamentals for DIDI and would also have an impact on its valuations.
Is DIDI or BABA the better Chinese stock to buy now?
If you are willing to take the risk and bet that China won't go too far in punishing DIDI, you might find the stock attractive. It could turn out to be a good buy in the long term unless China really screws the company.
Article continues below advertisement
As for BABA, the stock seems to have bottomed. BABA stock would appeal to investors who are looking at playing the Chinese e-commerce industry. The stock looks rewarding at these prices.
Cathie Wood on Chinese stocks
The risk of investing in Chinese companies has increased over the last year. Even Cathie Wood, who has been bullish on Chinese stocks like BABA, has trimmed her stakes. She also admitted to lower valuations for Chinese stocks amid the crackdown by the government.