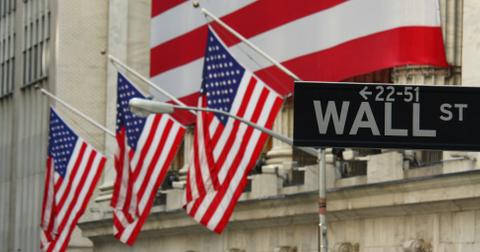 China, Alibaba, and You: What a Delisting Would Mean
By Mike Sonnenberg

Updated
Article continues below advertisement
China-focused ETFs underperformed
Stocks and ADRs (American depositary receipt) of Chinese companies and China-focused ETFs severely underperformed the broader US market on September 27. Alibaba (BABA) lost 5.15% on delisting worries, while JD.com (JD) lost 5.95% on the same concerns. JD.com is Alibaba's closest competitor. Together, Alibaba and JD control 70% of China's e-commerce market. Alibaba was planning a second listing in Hong Kong to break its overreliance on the US for capital amid the raging trade war between the US and China. However, it postponed the listing last month due to regulatory issues and political unrest in Hong Kong.
US Treasury says not right now
Yesterday, US Treasury spokeswoman Monica Crowley dismissed the delisting worries, saying, "The administration is not contemplating blocking Chinese companies from listing shares on U.S. stock exchanges at this time." However, the last three words suggest that it hasn't been entirely ruled out.
US futures were up today at 5:13 AM ET. In premarket trading, Alibaba stock was up 2.5%, partially offsetting Friday's losses. JD.com was up 2.8% at the same time.
Article continues below advertisement
The Trump administration has a history of having second thoughts. The breaking of the news and the explanation could be the Trump team's negotiation strategy. With the delisting option not completely ruled out, let's see what impact it could have on Alibaba and others as well as those who have invested in their stocks.
Chinese companies listed in the US
According to the US-China Economic and Security Review Commission, there were over 150 Chinese companies listed on US exchanges as of February this year. Together, these companies had a market cap of $1.2 trillion.
Alibaba tops the list with a market cap of $432.1 billion as of September 27. JD.com is in a distant second with a market cap of $40.4 billion. Pinduoduo (PDD), which was listed in the US last year, had a market cap of $36.6 billion as of the same day's close. Pinduoduo was up 2.3% in premarket trading today at 5:14 AM ET.
Most of these companies have raised capital in the US through the ADR route, which requires fewer disclosures. Apart from the trade war, a lack of transparency may be a factor behind the Trump administration's thoughts on delisting Chinese stocks.
Article continues below advertisement
What would happen if Alibaba and others were delisted?
In the event that the Trump administration forces Alibaba and others to delist, shareholders will still hold their shares. However, in the absence of an efficient stock exchange acting as a secondary market, monetizing those shares may become difficult for shareholders. There may not be a counterparty to buy the shares. If the delisting happens with a warning, investors may flock to sell their shares in these companies before the formal delisting, driving stock prices down. Having already raised the capital, the companies won't be affected much unless they have plans to raise more in the near term.
In the medium term, these companies can look for other options. Some other Chinese companies have chosen to list in Hong Kong and London instead of the US. The Hong Kong Stock Exchange and the London Stock Exchange may become favorites for Chinese companies looking to go public. Interestingly, earlier this month, the Hong Kong Stock Exchange made a $37 billion bid to acquire its London counterpart. Tencent is listed on the Hong Kong Stock Exchange.
Article continues below advertisement
On a global level, US exchanges may lose their luster in attracting international companies to go public. In turn, Goldman Sachs and Morgan Stanley may lose IPO business. Apart from Chinese companies, a large number of foreign companies with trillions of dollars in market cap have chosen the US for listing. Worse, the US will lose its credibility as an open economy.
How could China retaliate?
The delisting of Alibaba and other Chinese companies from US exchanges would make the trade war nastier. China could retaliate by continuing to dump US Treasuries. It may also put controls on the repatriation of funds from China to the US.
US companies operating in China may be at a disadvantage if that happens. Tesla (TSLA) is building a Gigafactory to produce its Model 3 car in China. By building a factory in China, Tesla is trying to avoid tariffs and reduce costs. If China goes for capital controls, Tesla may find it hard to transfer profits from China to the US. In China, homegrown NIO (NIO) competes with Tesla. In the case of a full-blown trade war, local companies such as NIO could get preferential treatment from the government over foreign companies such as Tesla. NIO shares were up 2.9% at 5:16 AM ET in premarket trading.
A divided world
The world is already suffering from the US-China trade war. Such a massive escalation in the trade war could put the global economy under severe stress.
On the political front, the US is already alienating allies. The fault lines were on full display on the highly publicized phone call between President Trump and Ukrainian President Volodymyr Zelenskiy, during which Trump accused France and Germany of doing nothing. The trade war's escalation would lead to a divided world, as countries would have to choose sides.
The US risks losing its leadership role in world economics and politics by resorting to protectionist policies. China is most likely to fill the US's shoes if that happens.