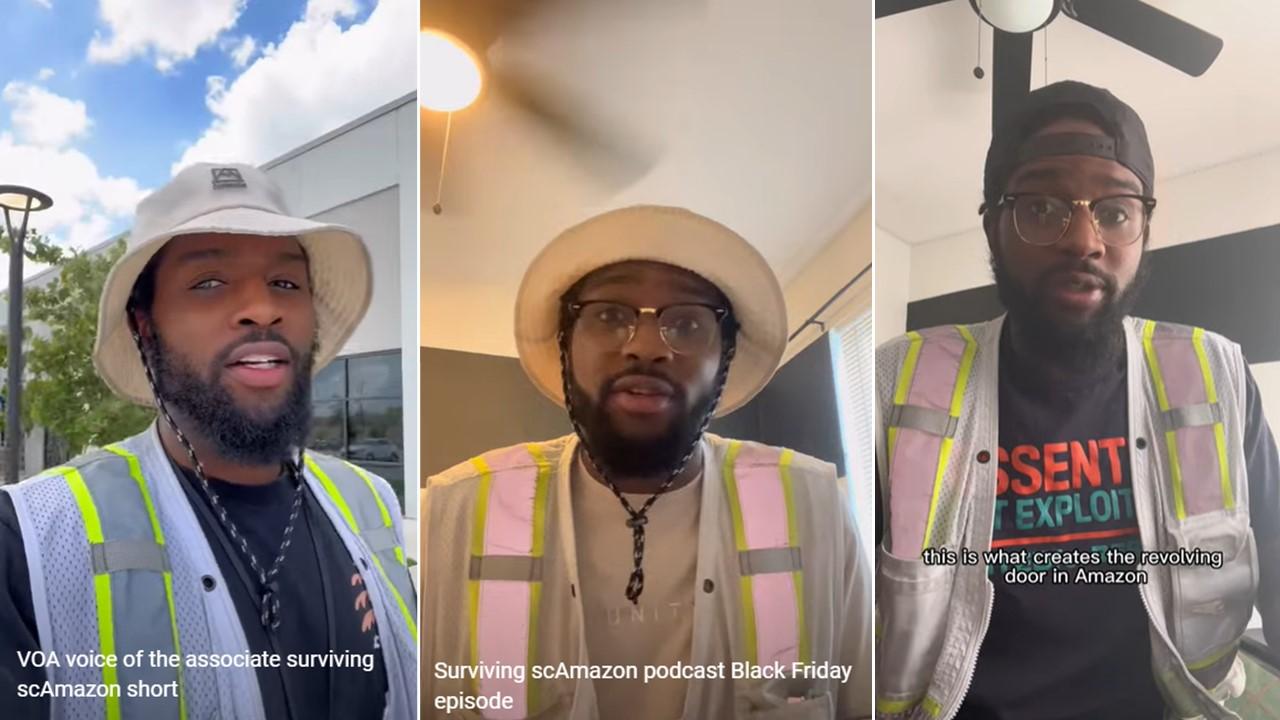 Daniel Olayiwola's 'Surviving Scamazon' Podcast Fights for Amazon Workers' Rights
For many people, scoring a job at Amazon is a dream come true, but for Daniel Olayiwola, a 29-year-old employee at an Amazon warehouse, it was more like a nightmare and he's fighting back.
Article continues below advertisement
Article continues below advertisement
As one of the first warehouse workers in Amazon's history to also become a shareholder, Daniel Olayiwola's podcast called Surviving Scamazon has shed light on unsafe working conditions, low wages, and unacceptable productivity pushes at this corporate giant.
So, who is Daniel Olayiwola and what is the Surviving Scamazon podcast? Keep reading to find out!
Who is Daniel Olayiwola?
The son of a Nigerian immigrant, Daniel is a military veteran with a young child who has worked at Amazon distribution centers across Florida and Texas since 2017.
Despite working for one of the world's top companies, he found himself stuck in a position with no upward mobility and low pay. He was forced to pick up a second job.
Article continues below advertisement
After Daniel realized his complaints were similar to his coworkers, he decided to speak up about the financial and physical struggles associated with working at an Amazon facility.
Article continues below advertisement
Article continues below advertisement
How did Daniel Olayiwola address Amazon working conditions?
Initially, Daniel started making videos to document the working conditions at the fulfillment centers and asked the company to increase pay and decrease the speed of work.
But knowing Amazon is anti-union, he sought to find another way to reason with management rather than battle them. So, in 2022, Daniel bought Amazon stock, which made him a shareholder and also gave him another way to get his voice heard.
Article continues below advertisement
As the first worker in the company's history to pitch a policy proposal to shareholders at Amazon's annual meeting, Daniel's plan focused on ending policies that were most damaging to workers' well-being such as exhausting quotas, extreme surveillance, and unsafe working conditions.
But the shareholders voted against his proposal, so he created the Surviving Scamazon podcast.
Article continues below advertisement
What is the Surviving Scamazon podcast?
Daniel launched a YouTube podcast in the summer of 2022 called Surviving Scamazon where he details and discusses company policy and how it impacts workers.
In each of Daniel's short monologues, he highlights the struggles of being a non-unionized, low-wage worker, and encourages others to contribute their stories and create an open dialogue surrounding low pay, dangerous surveillance technology, and unsafe working conditions in Amazon warehouses.
Have Daniel's podcasts helped his cause?
Daniel has produced a dozen podcasts to date, with many more on the way where he hopes to feature some of his Amazon colleagues as guests.
And while Daniel's managers have seen his posts, they haven't punished or reprimanded him. Although they acknowledge his work and requests, he still hasn't seen much change.
There have been efforts to unionize at Amazon, but with such high turnover rates, it's difficult to organize and build momentum.