An Amazon Stock Split in 2021 Might Help Bezos Beat Musk
Amazon (AMZN) CEO Jeff Bezos lost the top billionaire spot to Tesla CEO Elon Musk at one point in 2021. Bezos became the world's richest person in 2017, but after Tesla stock rallied following a split, Musk became the world's richest person. While Bezos has since reclaimed the title from Musk, many are wondering whether Amazon will split its stock in 2021. Would a stock split help Bezos cement his spot as top billionaire?
Article continues below advertisement
Fundamentally, stock splits and bonus shares don't make any difference. The stock's EPS would fall to reflect the split, which was 5-for-1 in Tesla's case. However, splits help increase liquidity, which is a key driver of stock prices, at least in these markets.
Article continues below advertisement
Amazon's stock split history
Since Amazon went public in 1997, the company has split its shares three times. The first split was in 1998 when Amazon split its shares 2-for-1. The company followed up with two stock splits in 1999. At the time, tech stocks were at astronomical highs. Usually, we don't see such a major company make two stock splits in a year.
Will Amazon split its stock in 2021?
Amazon stock is far above its price when it split its shares in 1999. With an absolute price of around $3,300, it's the most expensive FAANG stock and pricier than most other tech companies.
Article continues below advertisement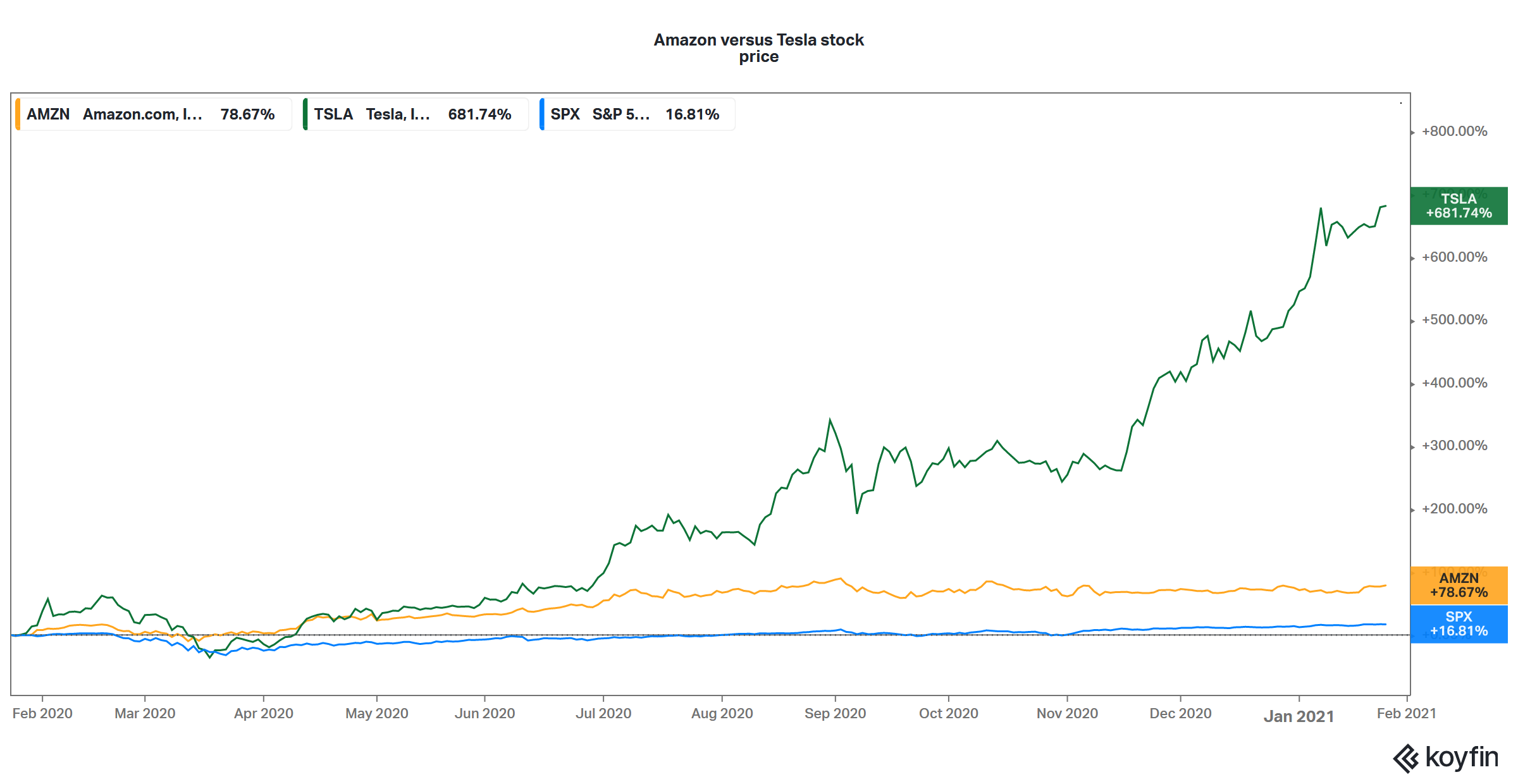 A stock split could help Amazon stock
At over $3,300 per share, Amazon looks expensive for many retail traders. For example, if you only have $10,000 to invest, you might not want to buy Amazon stock, as it would account for around a third of your portfolio. Stocks whose prices are in the triple digits may be more appealing. Given that Robinhood traders have buoyed many tech companies' stock, including Tesla's, Amazon could see some upside if it announces a stock split.
Article continues below advertisement
Jeff Bezos on Amazon's stock split
Analysts have been asking Bezos if the company will split its stock since at least 2017. Back then, he didn't rule out a split, but also didn't give a timeline. Since then, Amazon stock has surged. Other tech stocks' rise after a split could prompt Amazon to announce one of its own.
Article continues below advertisement
Jeff Bezos versus Elon Musk
Musk and Bezos aren't the best of friends. They have different world views and compete in many industries, including space travel. While Amazon has invested in Rivian, a Tesla rival, Musk has mocked Bezos and called him a copycat. He even backed calls to break up Amazon.
Over time, Musk and Bezos have been running neck and neck when it comes to their net worth. According to Forbes, Bezos had a net worth of $198.3 billion on Jun. 29, while Musk had a net worth of $165.9 billion. If Amazon splits its stock in 2021, it might give Bezos some firepower to keep ahead of Musk on the billionaire list.