Strong Economy and a Rate Cut: Can Trump Have It Both Ways?
Today, President Donald Trump told reporters, "Our country's doing unbelievably well economically."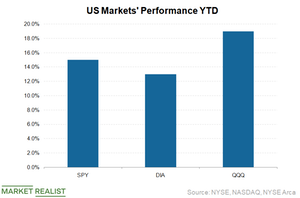 Trump believes the economy is doing "unbelievably well"
Today, President Donald Trump told reporters, "Our country's doing unbelievably well economically." This statement followed the release of March's jobs report, which was stronger than expected on many counts.
President Trump, however, believes that the Fed "really slowed us down."
He called upon the Fed for quantitative easing rather than tightening. The Fed has already changed its narrative from expecting two rate hikes in 2019 to expecting none. This significant U-turn from hawkish to dovish already has the markets concerned about the extent of the slowdown. The president's asking for a rate cut in such a scenario could actually be counterproductive, as it would confuse the markets even further and could erode the central bank's credibility.
Article continues below advertisement
Article continues below advertisement
"You really can't have it both ways"
If the economy (SPY) is as strong as Trump says it is, would a rate cut (TLT) (AGG) really make sense? Rate cuts are usually used by central banks to spur the economy when slowdown concerns take hold. This opinion is shared by Robert Heller, the Fed's former governor.
As reported by CNBC, Heller said in March, "On the one hand, the administration says the economy will grow, perform really well…On the other hand, they want to have low interest rates. You really can't have it both ways."
Slowdown concerns
The US economy (DIA) is doing relatively well as slowdown concerns have taken hold in Europe (HEDJ) (EZU) and China (MCHI). However, part of the slowdown concerns in the United States could be of the president's own creation. One of the biggest market worries right now is the ongoing US-China trade war, which has led to a slowdown in the Chinese economy and is affecting the US companies operating there.
Increasingly, many companies, including FedEx (FDX), BMW (BAMXF), and UBS, have been warning investors about the slowing global economy and China in particular. US companies Apple (AAPL) and NVIDIA (NVDA) have warned that China's slowdown is hurting their earnings. Advanced Micro Devices (AMD), Micron (MU), Amazon (AMZN), Netflix (NFLX), and Alphabet (GOOG) have also been affected by the world's two largest economies' trade tensions.