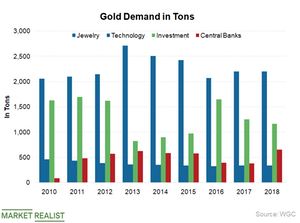 Central Banks Purchased the Most Gold in 50 Years in 2018
Highest central bank buying in 50 years
According to the gold demand trend released by the World Gold Council on January 31, annual gold demand increased by 4% in 2018, the highest amount of gold buying by the central bank in the last 50 years.
Gold demand (GLD) (IAU) reached 4,345.1 tons in the fourth quarter, 4.5% higher YoY (year-over-year). One of the key drivers of this demand growth was central bank buying. Central banks were on a gold-buying spree in 2018. In the year, they bought 651.5 tons of gold, the second-highest total on record.
Article continues below advertisement
Russia, Turkey, and Kazakhstan are leading the pack
As usual, the central banks of Russia (RSX), Turkey, and Kazakhstan have been leading the pack. These three banks accounted for 58% of total central bank demand in 2018, down from 94% in 2017. Russia purchased the most gold on record at 274.3 tons during the year. These purchases were mostly funded by the sale of US Treasuries (SPY). Russia is in the process of de-dollarization by selling US Treasuries (AGG) and buying gold instead.
New central banks adding reserves
Apart from the usual suspects, there were some unconventional buyers in the market as well. The Reserve Bank of India (INDA) increased its reserves by 40.5 tons, the most since 2009. While European countries (HEDJ) are usually sellers of gold rather than buyers, some European central banks also jumped on the buying bandwagon in 2018. Poland's gold reserves (GDX) increased by 25.7 tons in 2018, a 25% rise YoY. The World Gold Council also reported that Hungary increased its gold reserves the most it had in the last 30 years in 2018. Central banks prefer gold's lack of counterparty or credit risk.