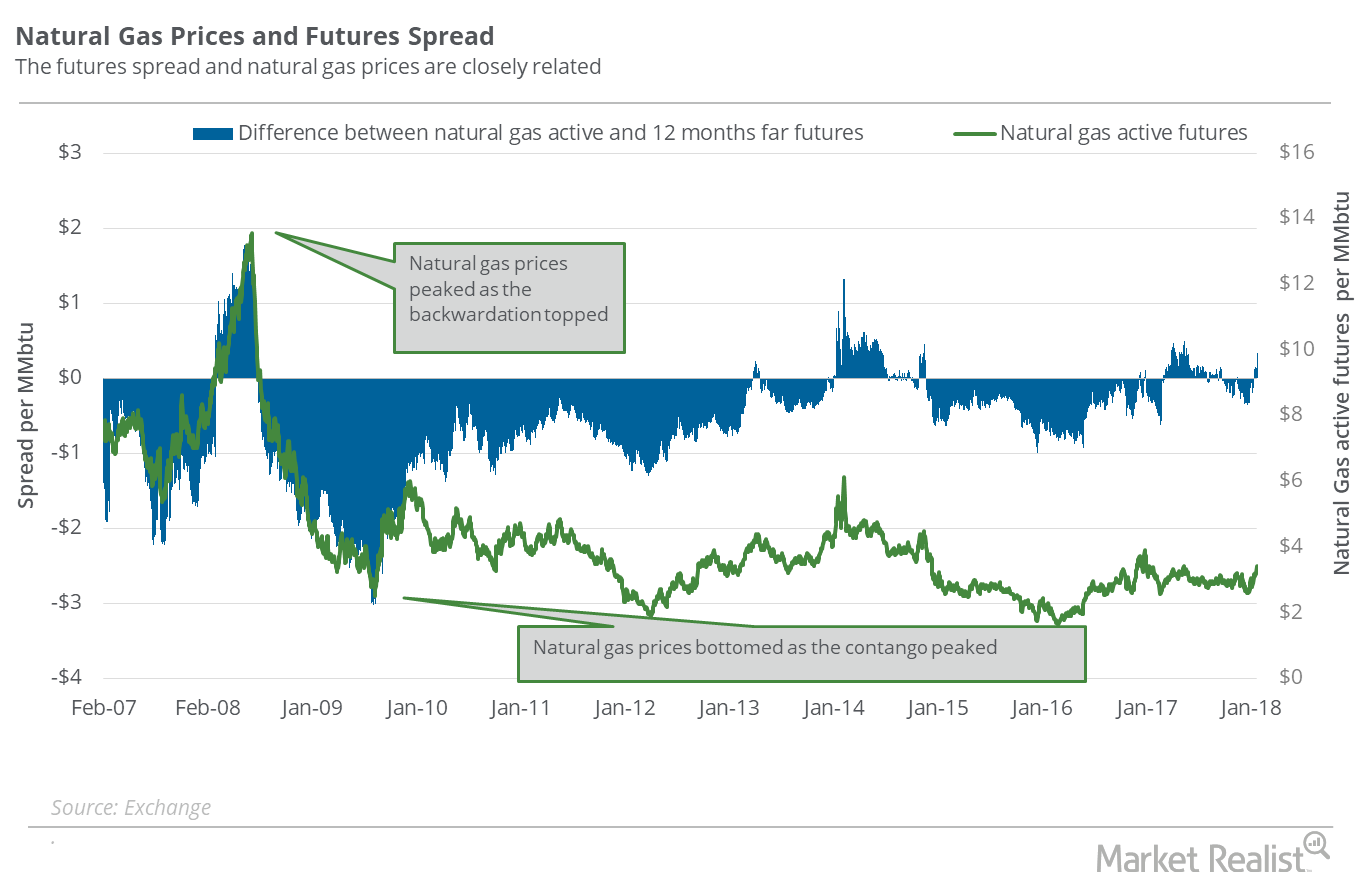 Is Natural Gas Pricing in Colder Weather?
Futures spread
On January 23, 2018, natural gas February 2018 futures settled $0.34 above February 2019 futures. In other words, the futures spread was at a premium of $0.34. On January 16, 2018, the futures spread was at a premium of $0.065. Between these two dates, natural gas futures rose 10.1%.
If the premium expands, natural gas futures could move higher. The gain in natural gas prices in the trailing week is a case in point. On January 23, 2018, natural gas's (GASL) (GASX) February 2018 futures were 6.8% up and settled at $3.44 per MMBtu (million British thermal unit), the highest closing level since January 3, 2017. On the same day, the premium more than doubled. But, any fall in the premium could coincide with the fall in natural gas prices.
Unlike the premium, when the spread is in a discount and the discount rises, natural gas prices could decline. For example, in March 2016, the discount reached $0.84, and natural gas hit a 17-year low. But a contraction in the discount could coincide with the rise in natural gas prices.
Article continues below advertisement
Between January 16 and January 23, 2018, the premium expanded along with a 10.1% spike in natural gas prices. Weather forecasts suggest a possible fall in temperature in the coming weeks similar to the start of this month, which we discussed in part one. Forecasts are fueling market expectations for heavy heating demand for natural gas, which is evident in the futures spread.
Energy sector
Natural gas producers' (XOP) (DRIP) (IEO) hedging-related activities take into account the natural gas futures forward curve. The midstream sector's (AMLP) natural gas transportation, storage, and processing activities are also affected by the curve.
As of January 23, 2018, natural gas (FCG) futures contracts for delivery between February and May 2018 settled in a downward slope. The ProShares Ultra Bloomberg Natural Gas (BOIL) and the United States Natural Gas ETF (UNG), which take positions in natural gas futures, stand to benefit from this type of pricing pattern.