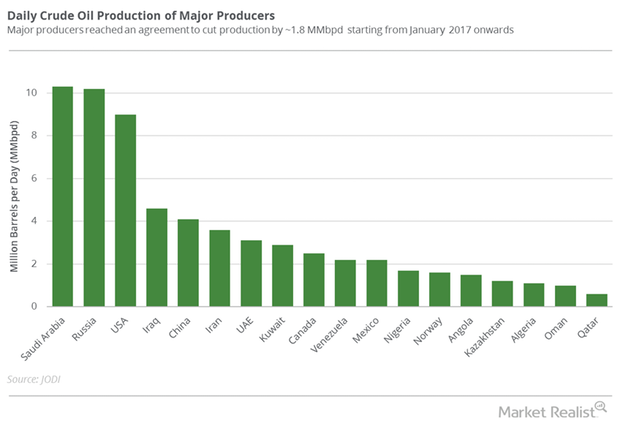 How OPEC and Russia Are Helping US Crude Oil Producers
Crude oil futures 
January West Texas Intermediate (or WTI) crude oil (USO) (SCO) futures contracts fell 0.65% and were trading at $57.98 per barrel at 1:10 AM EST on December 4, 2017. In contrast, the E-Mini S&P 500 (SPY) futures contracts for December delivery rose 0.54% to 2,658.25 at the same time.
Crude oil prices fell due to a strong US dollar (UUP) in early morning trading on December 4, 2017. However, oil (USL) (UCO) futures are near their three-year high partially due to current production cuts. High oil prices help oil producers (IEZ) (XOP) like Saudi Aramco, Rosneft, BP (BP), ExxonMobil (XOM), and Shell (RDS.A).
Article continues below advertisement
Article continues below advertisement
OPEC extends production cuts for nine months 
On November 30, 2017, OPEC and Russia extended the production cuts until December 2018. It boosted oil (BNO) (DBO) prices on December 1, 2017. According to the deal, oil producers will cut production by 1,800,000 bpd (or 2% of global oil supply) from January 2017 to December 2018. However, oil producers signaled an early exit from the deal depending on oil market conditions. Nigeria and Libya agreed to cap their crude oil production levels at their 2017 average. The production cuts aim to reduce global and US oil inventories.
US shale oil drillers 
The current production cuts could keep oil prices firm. As a result, the US and Canada's oil producers are expected to increase their drilling budget by 20% in 2018, according to an Evercore ISI survey. They had increased the drilling budget by 40% in 2017.
Impact  
Any rise in oil prices would drive US production. US production is expected to hit a record in 2018. It would offset some of the benefits of production cuts and pressure oil prices.
Next, we'll discuss how the US tax bill impacts oil prices.