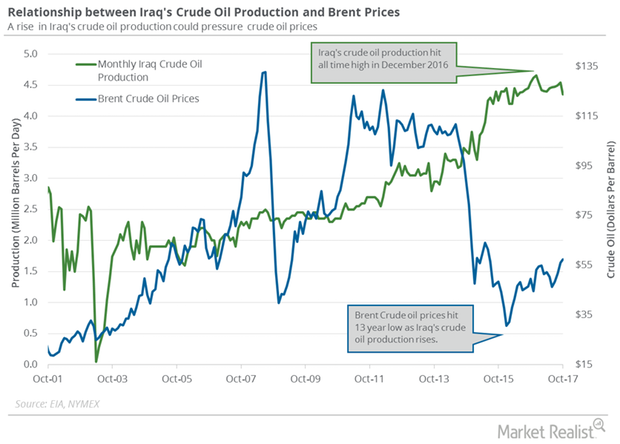 Iraq's Crude Oil Production and Exports Could Help Oil Bulls
Iraq's crude oil production  
Reuters estimated that Iraq's crude oil production fell by 50,000 bpd (barrels per day) to 4,330,000 bpd in November 2017—compared to the previous month. Production might have fallen due to ongoing production cuts and supply outages. Iraq is OPEC's second-largest oil producer. Any fall in Iraq's crude oil production is bullish for oil (BNO) (UCO) prices. It also benefits energy producers' (XLE) (IXC) earnings like BP (BP), Rosneft, Shell (RDS.A), Energen (EGN), and Newfield Exploration (NFX).
Article continues below advertisement
Iraq's crude oil exports 
Iraq exported 3,500,000 bpd of crude oil from the southern ports in the country in November 2017. The exports were at 3,350,000 bpd in October 2017. The exports rose as Iraq plans to offset the supply outage caused in the Kirkuk oilfields. Any rise in crude oil exports is bearish for oil (UCO) (DTO) prices. Moves in oil prices impact ETFs like the Fidelity MSCI Energy Index (FENY) and the First Trust Energy AlphaDEX Fund (FXN).
Iraq and Iran oil swap deal
Iraq signed a crude oil swap deal with Iran last week. According to the deal, Iraq will supply 60,000 bpd of crude oil produced in the Kirkuk oilfield to Iran. Similarly, Iran will supply the same amount of oil in Iraq's southern ports. The deal runs for a year.
Impact
Iraq plans to increase its crude oil production to 5,000,000 bpd. Any rise in crude oil production and exports is bearish for oil (SCO) (OIL) prices. However, Iraq agreed to cut production by 210,000 bpd as part of the current production cuts.
Next, we'll focus on some crude oil price forecasts.