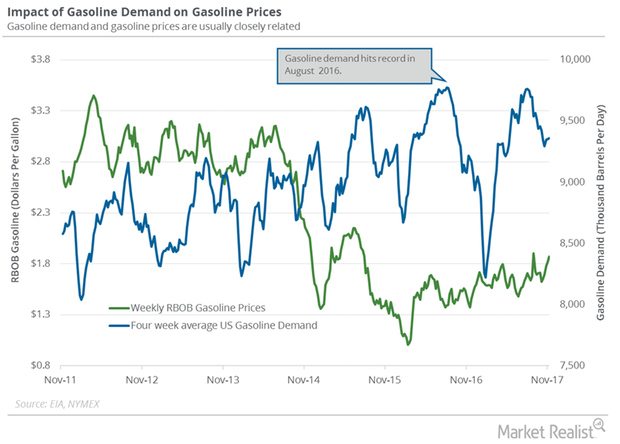 Will US Gasoline Demand Help Crude Oil Prices This Week?
US gasoline demand  
According to the EIA, US gasoline demand rose by 423,000 bpd (barrels per day) or 4.6% to 9,595,000 bpd on November 10–17, 2017. The demand rose by 571,000 bpd or 6.3% from the same period in 2016. A rise in gasoline demand benefits gasoline (UGA) and oil (UCO) (USO) prices.
Higher oil prices benefit oil producers (RYE) (IEZ) like QEP Resources (QEP), Devon Energy (DVN), Occidental Petroleum (OXY), and Bill Barrett (BBG).
Article continues below advertisement
Peak and low 
US gasoline demand hit a peak of 9,800,000 bpd in July 2017. The strong summer driving period boosted demand. In contrast, gasoline demand tested 8,000,000 bpd in January 2017—the lowest level since February 2014.
So far, US gasoline and crude oil (USL) (UWT) futures have risen 9% and 1.2% in 2017. Oil prices' gains were limited due to several bearish drivers. However, they're near a 30-month high on November 28, 2017.
EIA's US gasoline consumption estimates