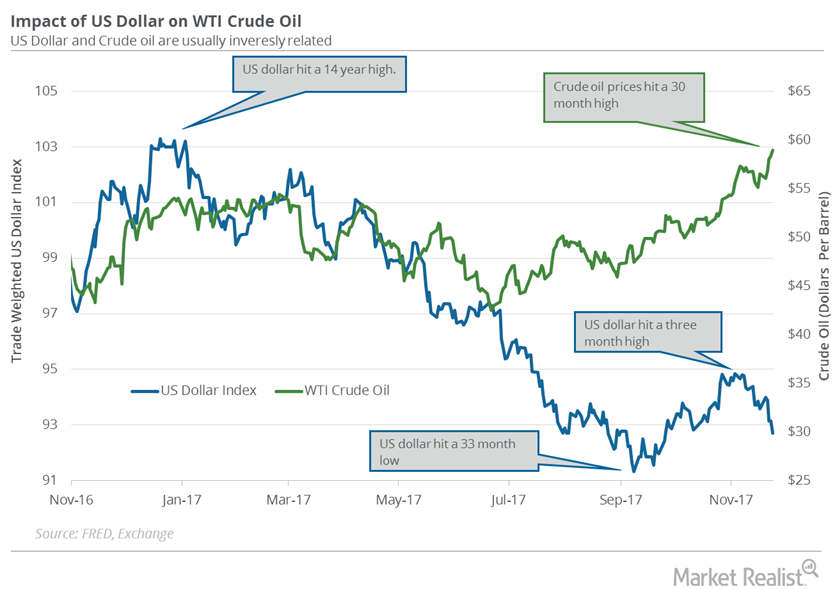 US Dollar Is near a 2-Month Low
US Dollar Index  
The US Dollar Index fell 0.5% to 92.7 on November 24, 2017—the lowest level in almost two months. The US dollar (UUP) fell 1.27% last week. The US dollar fell due to the strengthening euro. The euro rose due to expectations that the European economy will improve. The Fed's concerns about weak US inflation also weighed on the US dollar.
The weak dollar supported US crude oil (UWT) (USO) prices last week. Prices are near a three-year high. High oil prices benefit energy producers (RYE) (XLE) like Anadarko Petroleum (APC), ExxonMobil (XOM), Stone Energy (SGY), and Denbury Resources (DNR).
Article continues below advertisement
US dollar's highs and lows  
The US dollar (USDU) tested 103.8 on January 3, 2017—the highest level in more than a decade. On the other hand, it tested 90.99 on September 8—the lowest level in almost three years.
However, the US dollar tested a three-month high in early November 2017 due to the improving US economy, job market, and US tax bill. A delay in the US tax bill proposal has been weighing on US dollar.
US dollar and crude oil
The US dollar and crude oil (USL) (DBO) prices are usually inversely related. The weak dollar supports oil prices, while a strong dollar weighs on oil prices.
The Fed might increase US interest rates in December 2017 and even in 2018, which would strengthen the US dollar. The strong US equity (SPY) (QQQ) market might support the dollar. An expectation of a strong US dollar could pressure oil (USO) (UCO) prices.
In the next part, we'll discuss how Cushing oil inventories influence oil prices.