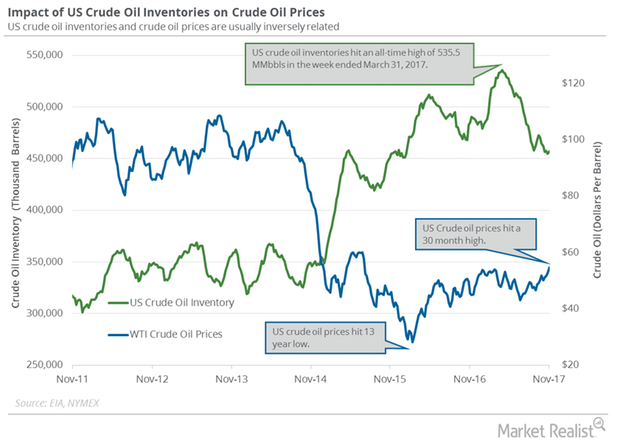 OPEC's Monthly Oil Report: Positive or Negative for Crude Oil?
API's crude oil inventories  
On November 7, 2017, the API (American Petroleum Institute) will release its weekly crude oil inventory report. Wall Street analysts estimated that US crude oil inventories would have fallen by 2,850,000 barrels on November 3–10, 2017.
A larger-than-expected draw in nationwide crude oil inventories could benefit crude oil (BNO) (USO) (UCO) prices. US crude oil inventories have fallen ~14.5% from their peak in March 2017, which is also bullish for oil (DTO) (DBO) (OIL) prices.
Article continues below advertisement
OPEC's monthly report 
OPEC released its monthly report on November 13, 2017. OPEC reported that its production fell by 150,000 bpd (barrels per day) to 32.59 MMbpd (million barrels per day) in October 2017—compared to the previous month. It supported oil prices on November 13, 2017.
OPEC also highlighted that global crude oil demand is expected to grow by 1.51 MMbpd to 98.45 MMbpd in 2018, which is 130,000 bpd higher than previous estimates. OPEC thinks that global economic growth could rise to 3.7% in 2018. Previously, it estimated that the growth would be at ~3.5%.
OPEC stated that global crude oil inventories fell by 23.6 MMbbls (million barrels) to 2.985 billion barrels in September 2017—compared to the previous month. Any fall in inventories is bullish for oil prices. Higher oil prices benefit oil producers (RYE) (XES) like Apache (APA), Stone Energy (SGY), and Denbury Resources (DNR). However, global crude oil inventories are 154 MMbbls above their five-year average.
OPEC expects crude oil supplies from non-OPEC producers to rise by 870,000 bpd in 2018, which is down 70,000 bpd from previous estimates. It's also bullish for oil bulls.
Impact on crude oil prices
Higher crude oil demand, easing supplies and inventories, improving global crude oil demand, and economic growth could support oil prices.
In the next part, we'll discuss how the US dollar impacts oil prices.