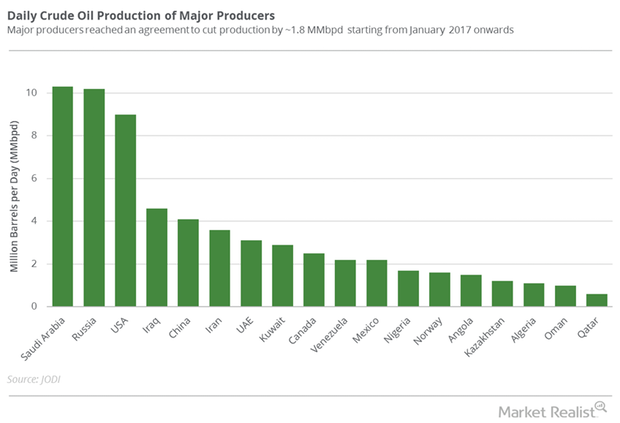 Crude Oil Prices Are Positive before OPEC's Meeting
Crude oil futures  
US crude oil futures (UWT) (DTO) for January delivery rose 0.3% to $57.47 per barrel at 1:10 AM EST on November 30, 2017. Prices rose ahead of OPEC's meeting. Oil (USO) prices are near a three-year high. Higher oil prices benefit energy producers (PXI) (IEO) like EQT (EQT), Laredo Petroleum (LPI), and W&T Offshore (WTI).
Meanwhile, E-mini S&P 500 (SPY) futures for December delivery fell 0.01% to 2,624.75 at 1:10 AM on November 30, 2017.
Article continues below advertisement
OPEC's meeting
OPEC's (Organization of the Petroleum Exporting Countries) meeting will be held on November 30, 2017, in Vienna. So far, it's one of the biggest bullish factors for oil bulls in 2017. On November 29, 2017, Russia said that production cuts would be extended. However, it thinks that the extension should be reviewed in June 2018. OPEC's monitoring committee recommended that the production cuts be extended until December 2018.
Russia is concerned about losing market share to the US. US crude oil exports are near record levels. Morningstar predicts that even at current oil prices, US crude oil production will continue to increase. US crude oil exports to Asia have been rising. Asia is a big market for Russia and Saudi Arabia.
Market's reaction after OPEC's meeting
Many OPEC members are confident that production cuts should be extended until December 2018. Goldman Sachs predicts that oil (DBO) (USL) (BNO) prices would fall if OPEC announces a production cut extension that's less than six months. Credit Suisse thinks that a shorter product cut extension could pressure oil prices.
However, US crude oil prices' implied volatility is near a nine-month low. Hedge funds have cut their bullish bets on Brent and WTI oil prices ahead of OPEC's meeting. All of these factors suggest that there would be less volatility.
BNP Paribas and JPMorgan Chase suggest that crude oil price volatility could increase if OPEC announces any disappointing news.
After OPEC's deal expires, Russia, Iraq, Iran, and Libya would ramp up production. Any rise in supplies would pressure oil (BNO) (UCO) prices.
Next, we'll analyze how US oil inventories influence oil prices.