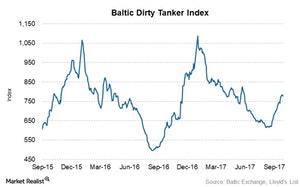 Crude Tanker Stocks and the BDTI Index in Week 39
Week 39
It's important to look at the BDTI (Baltic Dirty Tanker Index) when you're assessing the crude tanker industry. In week 39, the week ending September 29, 2017, the BDTI rose to 776 from 772. In week 38, the index rose by 28 points. The BDTI rose for the fifth consecutive week. The BDTI shows the direction that crude oil tanker rates are heading. The index has fallen ~16% since the beginning of 2017.
The crude oil industry is characterized by seasonality. Along with its weekly performance, it's also important to look at the index's yearly performance. In the same period last year, the BDTI was ~630. In week 38, the index is 23.4% higher year-over-year.
Article continues below advertisement
Stock performance
In week 39, crude tanker stocks had mixed returns. The following are crude tanker companies' stock returns in week 39:
In the same week, the SPDR Dow Jones Industrial Average ETF (DIA) rose 0.28%.
Series overview
In this series, we'll see which crude tanker—VLCC, Suezmax, or Aframax—rates rose in week 39. We'll also look at the cost side—the performance of oil and bunker fuel prices. In the last part, we'll discuss analysts' recommendations for crude tanker companies.