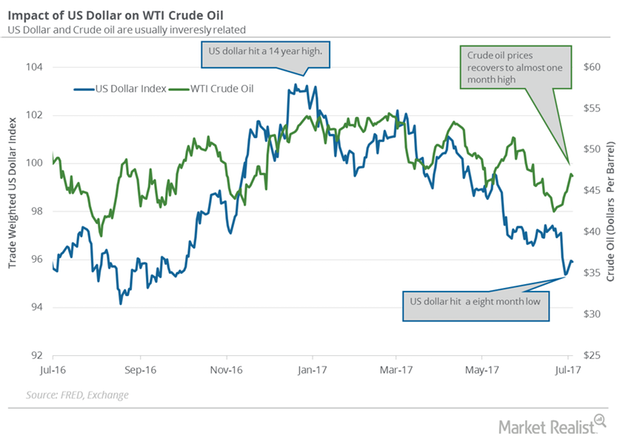 Will the US Dollar Continue Its Bearish Momentum This Week?
Crude oil prices
August 2017 West Texas Intermediate (or WTI) crude oil (RYE) (USL) (PXI) futures contracts fell 0.5% and were trading at $46.83 per barrel in electronic trade at 1:45 AM EST on July 4, 2017. Prices are near a one-month high. However, US crude oil prices have fallen 17.7% year-to-date (or YTD).
Lower crude oil prices have a negative impact on oil and gas producers such as Apache (APA), PDC Energy (PDCE), Bonanza Creek Energy (BCEI), and Comstock Resources (CRK).
Article continues below advertisement
Article continues below advertisement
US Dollar Index
The US Dollar Index rose 0.56% to 95.9 on July 3, 2017. The US dollar rose due to better-than-expected US manufacturing data, or the purchasing managers' index (or PMI). The PMI rose to 57.8 in June 2017, compared to 54.9 in May 2017. Market surveys expected the PMI to rise to 55.2 in June 2017. The level it reached was its highest in almost three years.
However, the US dollar (UUP) hit 95.37 on June 29, 2017, its lowest level in eight months. The US Dollar Index hit a high of 103.8, its highest level in 14 years, on January 3, 2017. For more information, read Crude Oil Reverses as US Dollar Hits 14-Year High. The US dollar has fallen ~7.6% from its peak in January 2017.
Expectations of weak inflation and President Donald Trump's inability to deliver tax subsidies and fiscal stimulus have pressured the US dollar.
Impact
Crude oil and the US dollar are inversely related. A weak dollar makes crude oil more economical for crude oil importers. The expectation of a weak dollar in the short term could benefit crude oil prices.
In the next article, we'll look at how monthly US crude oil production affects crude oil prices.