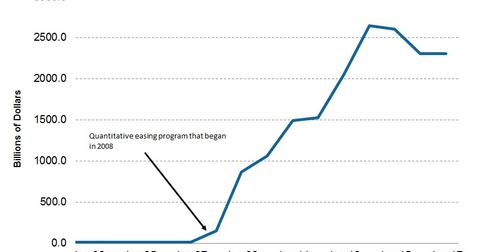 Will the US Balance Sheet Unwind Affect the Markets?
By Ricky Cove

Updated
Change in tone of the July meeting
After the July FOMC (Federal Open Market Committee) meeting statement was released, market participants came to believe that the Federal Reserve would begin the process of balance sheet normalization sooner rather than later. 
The reason for this assertion was the change in the Fed's tone regarding balance sheet unwinding.
In its June statement, the FOMC said that the balance sheet normalization program could be implemented "this year," and in its July statement, the FOMC said that the program would begin "relatively soon." 
As part of its effort to revive the US economy after the 2007 recession, the Fed purchased large amounts of US government debt (GOVT), agency debt (MINT), and mortgage-backed securities (MBB). The total size of the Fed's balance sheet ballooned to $4.5 trillion after this exercise.
For more information on the Fed's balance sheet, read Inside the Fed's Balance Sheet (The Biggest in the World).
Article continues below advertisement
Proposed schedule of balance sheet unwinding
The FOMC outlined its plan regarding the balance sheet normalization program in its June policy statement. Until now, the Fed has been reinvesting the principal from its maturing securities to maintain the size of its balance sheet. Once the normalization program begins, the Fed will stop reinvesting some of these proceeds.
For US Treasuries (SHY) (IEI), the FOMC expects to let $6 billion roll off from its balance sheet on a monthly basis, and it plans to increase this amount by $6 billion each quarter until it reaches $30 billion per month. Similar plans were listed for other types of securities that the Fed holds.
To learn more about the Fed's normalization plan, read Fed Chair Yellen Warns about Its $4.5 Trillion Balance Sheet Unwinding.
Possible impact on the markets
Given that the proposed plan has been listed with a clear breakdown, the impact on the bond market (BND), in which all these securities would be allowed to mature, could be limited. The snail's pace of the proposed normalization program is unlikely to have a draining impact on bond market liquidity because the Fed could take over five years to bring its excess reserves down from the current level of $4.5 trillion.
In the next part of this series, we'll discuss the FOMC's view on US inflation.