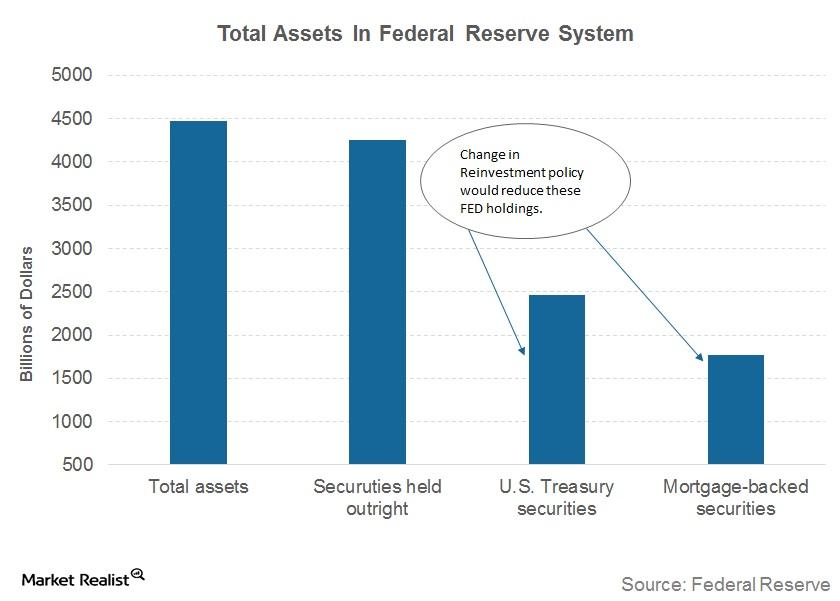 Inside the Fed's Balance Sheet (The Biggest in the World)
By Ricky Cove

Apr. 10 2017, Published 5:48 p.m. ET
Why the Fed had to buy these fixed income securities
In an attempt to rescue a financial system (XLF) under immense pressure after the collapse of Lehman Brothers, the US Federal Reserve started purchasing huge quantities of fixed income securities (AGG). The Fed felt that it had to take this approach because the normal policy tools available at that time were proving inadequate. And with the US interest rates near 0%, there was no scope for further rate cuts to stimulate the economy. In this way, a series of quantitative easing programs came into being.
These securities were primarily US government-backed Treasuries (TLT) and mortgage-backed securities (MBG). In January 2008, the Fed's balance sheet was at $147 billion. It rose to $864 billion in January 2009 and has ballooned to $4.4 trillion since then.
Article continues below advertisement
In August 2013, the Fed started reducing the purchase of these securities, stopping completely in October 2014. They have only been reinvesting proceeds from the maturing bonds since then. FOMC (Federal Open Market Committee) members now feel that they should have a plan to offload these assets of the balance sheet now that the economy is returning to normal.
The Fed can't clear its balance sheet immediately
The Fed has started the rate normalization process only recently and has a long way to go before the rates come back to pre-Lehman-collapse levels. So far, the Fed has been successful in raising the interest rate three times without spooking markets (QAI) too much.
It appears now that the Fed will hike the rate at least two more times in 2017, and after that, it will consider offloading these assets from its balance sheets.
In Part 3, we'll look at the recent speeches by individual Fed members.