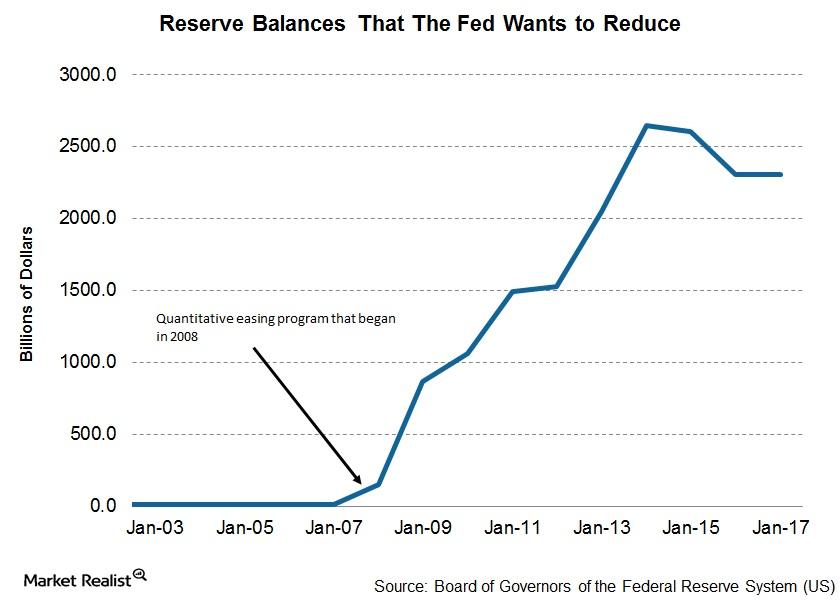 Fed Chair Yellen Warns about Its $4.5 Trillion Balance Sheet Unwinding
Fed could implement balance sheet unwinding fairly soon
In her post-meeting press conference, the Federal Reserve's chairperson, Janet Yellen, warned that the Fed could implement its balance sheet unwinding process soon if the economy continues to perform as expected. She said that no action was taken during this meeting, as the FOMC members wanted to provide advance warning before taking such a step.
There was no mention of the timing when this process would begin. Yellen stated that there is no specific fund rates level that could trigger the process of balance sheet normalization. For more information about the Fed's balance sheet, please read Inside the Fed's Balance Sheet (The Biggest in the World).
Article continues below advertisement
Article continues below advertisement
Fed's plan for its portfolio
In her post-meeting statement, Yellen outlined the expected plans to reduce the reinvestment of principal payments from maturing securities. There would be gradually rising monthly offloading targets for different types of securities that the Fed holds on its balance sheet.
For US Treasuries (SHY) (IEI), the FOMC expects to let $6 billion to roll off on a monthly basis from its balance sheet. It would increase this amount by $6 billion every quarter until it reaches monthly reductions of $30 billion.
For agency debt (MINT) and mortgage-backed securities (MBB), this cap would be $4 billion per month, rising by $4 billion every quarter until a cap of $20 billion per month is reached.
Fed kept its options open
The Fed's statement outlining its plans for balance sheet reduction noted that the process would continue until the Fed's balance sheet shrinks to a size conducive to an efficient, effective monetary policy.
The statement noted that the FOMC may restart the process of reinvestment in US Treasuries (GOVT) if the economy derails from its path of recovery.
In the next part of this series, we'll analyze the equity market's reaction to the FOMC's statement.