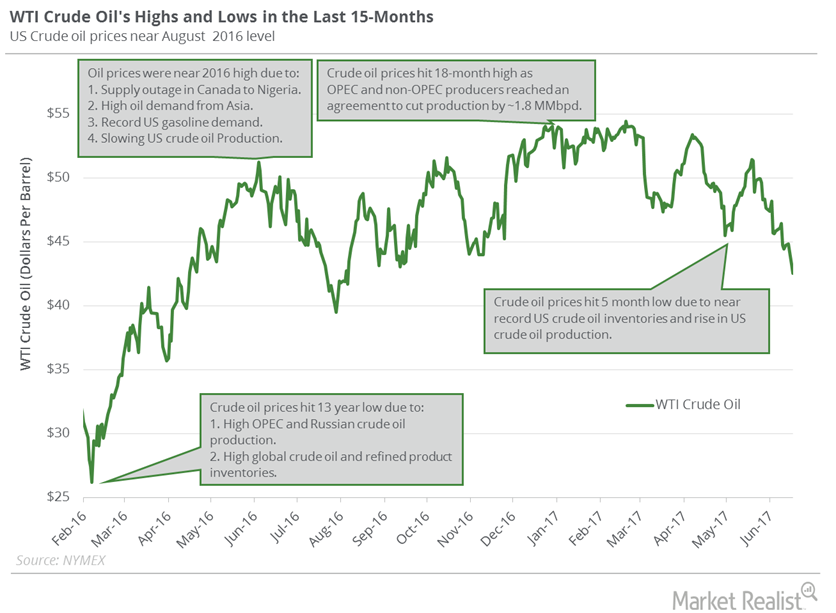 US Crude Oil Prices Could Be Range Bound Next Week
US crude oil prices  
August WTI (West Texas Intermediate) crude oil (XOP) (VDE) (RYE) futures contracts rose 0.5% and closed at $42.74 per barrel on June 22, 2017. Brent crude oil futures for August delivery rose 0.8% and settled at $45.22 per barrel on June 22, 2017. Prices recovered from a multi-month low due to short covering.
The S&P 500 (SPY) (SPX-INDEX) fell 0.05% to 2,434.5 on June 22, 2017. So far, the energy sector is limiting the upside for SPY in 2017.
Article continues below advertisement
Article continues below advertisement
Crude oil futures
US crude (XLE) (IEZ) futures are at a ten-month low, while Brent crude oil futures are at a seven-month low. Brent and US crude of futures have fallen ~23% and ~24% year-to-date.
Prices have fallen due to the following:
US gasoline inventories are above five-year range. As a result, demand on the Colonial pipeline fell to a six-year low. The Colonial pipeline is the biggest US fuel pipeline system. Weak demand suggests oversupply.
US crude oil production has risen 11% from the low in July 2016. Some shale oil producers can break even if WTI crude oil prices fall below $40 per barrel.
Market intelligence company, Genscape estimates that crude oil inventories in Europe's Amsterdam-Rotterdam-Antwerp hub hit 64.2 MMbbls (million barrels) for the week ending June 16, 2017—a one-year high.
Global and US crude oil inventories are above their five-year average.
Traders are skeptical that crude oil glut could overshadow production cut deal.
Read Will US Crude Oil Prices Recover from 10-Month Lows? for more important bearish drivers.
Supply and demand drivers and moving averages suggest that prices could trade lower or be range bound next week. Meanwhile, Iraq's oil minister expects oil prices to start recovering by July 2017. He thinks that Brent crude oil prices could hit $54 per barrel by December 2017. For more on crude oil's price forecast, read US and Brent Crude Oil Price Forecast for the Next 6 Months.
In the next part, we'll look at US natural gas futures.