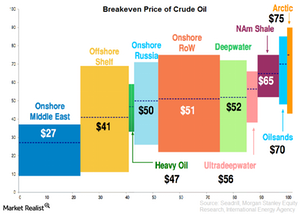 Why is the breakeven price of crude oil so important?
What's breakeven price?
Knowing the breakeven price of crude oil is important when trying to figure out what OPEC needs in order to regain market share. The breakeven price of crude oil includes production costs, exploring or finding costs, oil well development costs, transportation costs, and selling and general administration expenses. The chart below describes the breakeven price for crude oil.
Article continues below advertisement
Article continues below advertisement
Breakeven price of various regions
A recently conducted survey shows some interesting insights into the breakeven cost of producing crude oil. Petroleum extraction in the Arctic region shows the highest breakeven price of $75 per barrel. On the other hand, Middle Eastern countries have the lowest price at $27 per barrel. US shale oil producers have a breakeven price of $65 per barrel. These estimates are average breakeven prices. The costs may vary depending on the oil well and its location.
Breakeven price and oil decline
WTI (West Texas Intermediate) crude oil is currently trading at $45 per barrel. Brent crude oil is trading at $46.4 per barrel. This massive price decline in the last six months will impact oil producers with high breakeven prices.
The margins of high breakeven-price US shale oil producers such as Halcon Resources (HK), Continental Resources (CLR), Laredo Petroleum (LPI), Whiting Petroleum (WLL), and Marathon Oil Corporation (MRO) will be impacted the most.
As long as crude oil prices are around the breakeven range of US shale oil, then US oil production growth will be slow. Production will likely decline over the long term, which in turn will have a positive impact on oil prices.
Will crude oil hit the lowest breakeven price and match the $27 per barrel mark of the Middle Eastern countries? To answer that, we first need to understand the various methods of crude recovery and the costs of extracting oil from the ground.