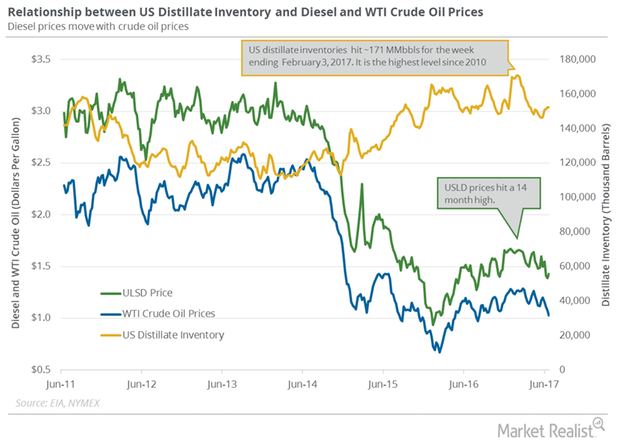 US Distillate Inventories Fell for the First Time in 5 Weeks
US distillate inventories 
The EIA (U.S. Energy Information Administration) reported that US distillate inventories fell by 0.2 MMbbls (million barrels) to 152.3 MMbbls on June 16–23, 2017. Inventories fell for the first time in five weeks. Inventories fell 0.1% week-over-week but rose 1.2% year-over-year.
The fall in distillate inventories supported diesel and crude oil (RYE) (VDE) (XES) futures on June 28, 2017. US diesel futures rose 1.4% to $1.43 per gallon on June 28, 2017. For more on crude oil prices, read Part 1 and Part 2 in this series.
Article continues below advertisement
US distillate production and import 
US distillate production rose by 70,000 bpd to 5,244,000 bpd on June 16–23, 2017. Imports rose by 52,000 bpd to 139,000 bpd during the same period. Distillate demand fell by 129,000 bpd to 4,029,000 bpd on June 16–23, 2017.
Distillate exports
According to the EIA, the US exported 1.2 MMbpd (million barrels per day) of distillates in 2016. The US mainly exported distillates to Mexico, Brazil, and the Netherlands in 2016. US distillate exports have been slower in 2017—compared to 2016.