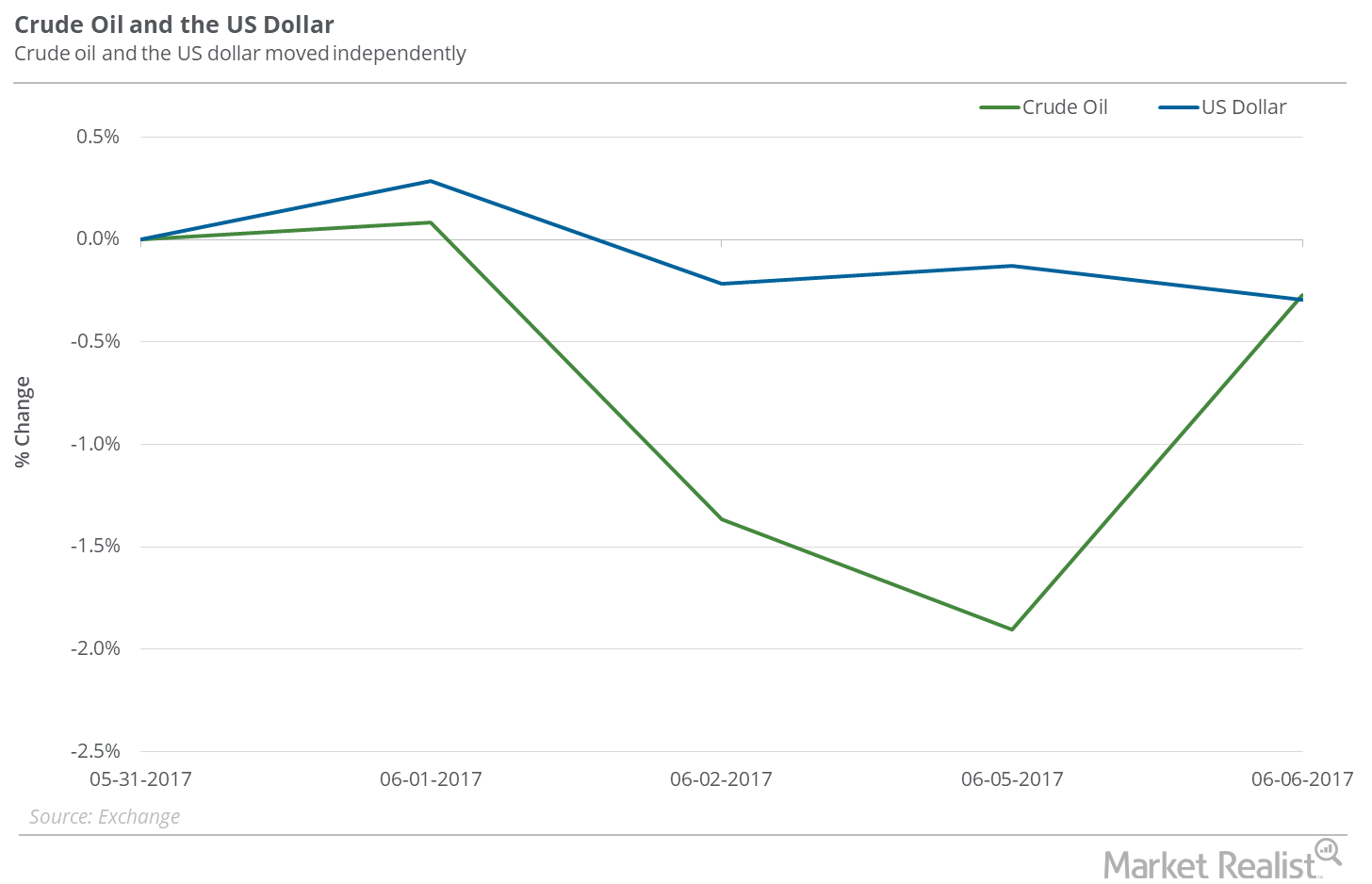 Is Crude Oil Ignoring the Falling Dollar?
Oil and US dollar
Between May 30 and June 6, 2017, the US dollar (UUP) (USDU) (UDN) fell 0.7%, and crude oil (USO) (OIIL) July futures fell 3%. However, US crude oil futures moved independently of the US dollar in the trailing week. The two moved in opposite directions in only two instances. The correlation between the two over this period stood at 48.5%.
The US dollar's movements usually impact commodity prices inversely. A weaker dollar should be a boost for oil prices.
Article continues below advertisement
Article continues below advertisement
Why interest rates could be critical for crude oil
Between June 13 and June 14, 2017, the FOMC (Federal Open Market Committee) will meet to discuss the benchmark interest rate. The benchmark interest rate is an important driver for the US dollar. The dollar, as we discussed above, can drive commodity prices.
So, US dollar movements could impact energy ETFs such the Direxion Daily S&P Oil & Gas Exploration & Production Bear 3X ETF (DRIP) and the Direxion Daily Energy Bear 3X ETF (ERY). Changes in the US dollar are also crucial for oil-related ETFs such as the United States Brent Oil ETF (BNO).
From September 2007 to June 2013, the one-month lagging correlation between US crude oil active futures and the US dollar was mostly in negative territory. However, since June 2013 to date, the correlation moved between -64% and 43%, remaining positive most of the time. This correlation could be because various other fundamental factors like OPEC production cuts, US shale-oil producers, and Trump's energy policies are affecting oil's supply-demand dynamics.