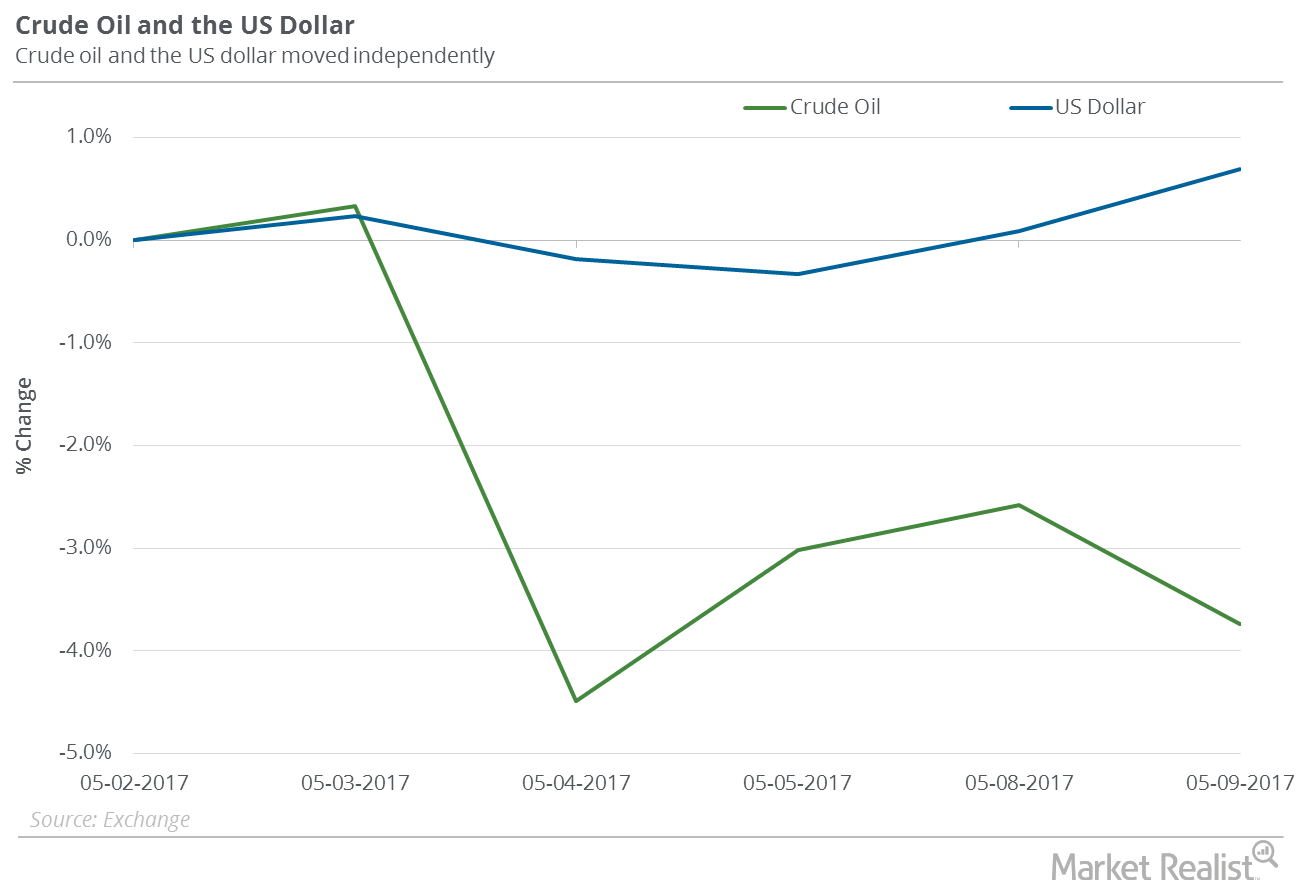 Oil Bulls, Don't Worry About the Rising US Dollar
Crude oil and the US Dollar Index
In the past five trading sessions, crude oil and the US dollar have moved in opposite directions in two instances. The correlation between crude oil and the US dollar in the past five trading sessions was 44.2%, which doesn't show an inverse relationship between the US dollar and oil prices during the short term.
Remember, a stronger dollar makes crude oil costlier for oil importers, which can have an adverse impact on prices.
Article continues below advertisement
Fed and the US dollar
The Fed kept interest rates unchanged in its latest review on May 3, 2017. But analysts expect that the Fed could hike interest rates twice more by the end of 2017. In turn, rising rates could boost the dollar, which could pressure crude oil prices. The Fed last hiked the interest rate on March 15, 2017.
The long-term correlation between crude oil and the dollar
Between September 2007 and June 2013, the one-month correlation between crude oil and the US dollar was positive in only a few instances. The correlation was largely negative during the period.
However, from June 2013 until now, the correlation between crude oil and the US dollar has been more bidirectional. During that period, the one-month correlations between crude and the dollar have fluctuated between -64.0% and 43.0%. These fluctuations could mean that the following fundamental drivers sometimes had greater impacts on crude oil than the US dollar:
Saudi Arabia's production decisions
US shale oil producers' costs and production dynamics
OPEC (Organization of the Petroleum Exporting Countries) and non-OPEC production and supply data
US inventory data
rig count data
other news regarding fundamentals
At the same time, the Trump administration's energy and climate policies could mean increased crude oil, natural gas, and coal production in the United States, which could mean lower crude oil prices.
While fundamental factors still dominate, the US dollar's impact on crude oil prices could be limited in the long term. Global crude oil demand will likely be the biggest driver of crude oil prices in the long term.
ETFs and crude oil
Notably, ETFs such as the Direxion Daily Energy Bear 3X ETF (ERY), the First Trust Energy AlphaDEX ETF (FXN), the United States Brent Oil ETF (BNO), the Direxion Daily S&P Oil & Gas Exploration & Production Bear 3X ETF (DRIP), and the United States Oil ETF (USO) are also impacted by movements in crude oil.
In the next part, we'll discuss contango.