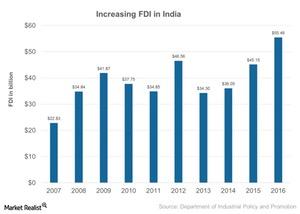 Are Prime Minister Modi's Reforms Boosting FDI in India in 2017?
FDI in India
India's government has made significant progress on important reforms that are expected to support strong and sustainable growth going forward. The implementation of the Goods and Services Tax (or GST) is expected to boost India's medium-term economic growth above 8%, according to government data.
The GST bill is expected to streamline the tax process and improve the efficiency and movement of goods across states in India (PIN) (INDA). The foreign direct investment (or FDI) has also grown considerably over the last few years in India. Let's look at the FDI investment over the last year in the chart below:
Article continues below advertisement
Increased capital inflow in India
The government of India has taken several steps aimed at creating a conducive business climate in the country and attracting investments. The foreign direct investment inflows have almost doubled from $22.8 billion in 2007 to ~$55.6 billion in 2016.
The sectors that have attracted maximum FDI in 2016 include services (SIFY) (INFY), computer hardware (WNS) and software (WIT), telecom (MTENY), automobiles, and trading. Mauritius is the top investor in FDI for India (EPI) (INDA), followed by Singapore, the UK (EWU), Japan (EWJ), the Netherlands, and the US (SPY).
India's economy has shown improvement since 2007 in the most relevant macroeconomic indicators:
Primary receipts, which are the difference between receipts and non-interest expenditures, decreased from 4.5% in 2009–2010 to 1.6% GDP in 2015–2016.
The current account deficit (or CAD) to GDP has also fallen significantly from 4.8% in 2012–2013 to 1.1% in 2015–2016.
Its debt-to-GDP ratio is also improving gradually, as it declined from 74% in 2007 to 68.5% in 2016.
Significance of FDI
All these factors could help improve the investment sentiment of foreign investors in India (EPI) (INDA). FDI is a major source of private external finance for developing countries (INDA) (FXI). FDIs are motivated largely by investors' long-term expectations to make profits in production activities that they can directly control.
These investments also bring the advantages of advanced technology and management practices, which could boost its contribution to economic growth when applied to different industries.
In our next article, let's look at the growth in industrial production in India.