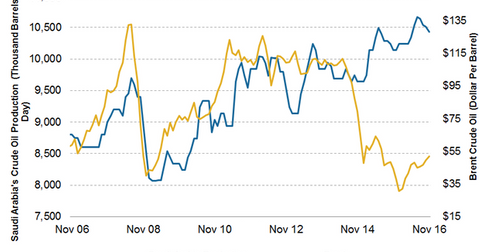 Will Saudi Arabia's Ambitious Plan Impact Crude Oil Prices?
By Gordon Kristopher

Updated
Saudi Arabia's crude oil production 
Saudi Arabia is the largest crude oil producer among OPEC (Organization of the Petroleum Exporting Countries) members. The EIA (U.S. Energy Information Administration) estimates that Saudi Arabia's crude oil production fell by 80,000 bpd (barrels per day) to 10.4 MMbpd (million barrels per day) in November 2016—compared to the previous month. Production fell 0.80% month-over-month, but rose 2.9% year-over-year. Production fell for the third consecutive month. The fall in Saudi Arabia's crude oil production supports crude oil (XLE) (USO) (XOP) (IEZ) (PXI) prices and vice versa. For more on crude oil prices, read Part 1 of the series.
Article continues below advertisement
Saudi Arabia and OPEC's meeting  
However, Saudi Arabia's main concern is that while it would be the major contributor of a steep production cut, other players including US shale producers, will reap major benefits from its sacrifice. When crude oil prices were lower in 2014 and 2015, Saudi Arabia produced more in order to capture market share and pressure high-cost producers out of the market. For more on US crude oil production, read Part 7 of this series.
Saudi Arabia exports two-thirds of its crude oil to India and China. A fall in production would mean that the export market share from these countries could shift to competitors such as Iran or Iraq.
Article continues below advertisement
Saudi Arabia depends on its crude oil export revenue to meet its budget expenses. It already used 150.0 billion barrels of its foreign exchange reserves to bridge the gap left by severely lower crude oil prices. So, it needs higher crude oil prices to narrow its budget deficits. Lately, Saudi Arabia told Asian crude oil buyers that it will cut supplies in the coming months as part of the production cut deal.
Impact on crude oil prices, stocks, and ETFs 
Crude oil prices react to changing crude oil supply and demand and vice versa. The above graph shows how changes in Saudi Arabia's crude oil production and crude oil prices interacted in the past. However, Saudi Arabia's role as a swing producer will now have a limited impact on crude oil prices due to the rise in crude oil production from non-OPEC producers such as shale-based producers in the US.
Crude oil prices also impact US oil and gas producers' earnings including Marathon Oil (MRO), Comstock Resources (CRK), Northern Oil & Gas (NOG), ConocoPhillips (COP), Stone Energy (SGY), and Sanchez Energy (SN).
Moves in crude oil and natural gas prices also impact funds such as the iShares Global Energy (IXC), the SPDR S&P Oil & Gas Exploration & Production ETF (XOP), the ProShares UltraShort Bloomberg Crude Oil (SCO), the Fidelity MSCI Energy ETF (FENY), the ProShares Ultra Bloomberg Crude Oil (UCO), and the ProShares Ultra Oil & Gas (DIG).
In the next part of this series, we'll take a look at OPEC's crude oil production and its impact on the crude oil market.