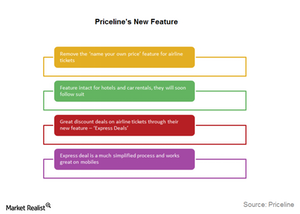 Priceline's 'Name Your Own Price' Feature on Its Way Out—How Will It Affect You?
By Ally Schmidt

Nov. 3 2016, Updated 8:05 a.m. ET
Priceline's "Name Your Own Price" feature to go
In September 2016, Priceline Group (PCLN) announced that it will remove its "Name Your Own Price" feature for airline tickets. This feature brought droves of customers to Priceline's website in the 1990s, when the feature was first introduced. But a lot has changed since then.
Most notably, since the 1990s, the airline industry has consolidated. Today, almost 85% of US air travel markets is controlled by the big four carriers—Delta Air Lines (DAL), American Airlines (AAL), United Continental (UAL), and Southwest Airlines (LUV)—leaving fewer tickets on the table and less room for discounting.
Article continues below advertisement
Meanwhile, customer behavior and technology have seen drastic changes, and so it has become necessary for Priceline to find a way to replace its Name Your Own Price feature with something more suitable to the times. Although Priceline has left the feature intact for hotels and car rentals for now, the feature will not likely last long.
"Express Deals" feature to make its way in
According to Priceline, customers need not worry because they'll still be able to find great discount airline ticket deals through Priceline feature newest feature, "Express Deals," which has already gained great traction among customers.
Priceline's primary business model remains intact with Express Deals. Airlines will list their discounts on Priceline's website without advertising them to others. The main difference is that the airline will now set the price instead of the customer naming the price.
What does this mean for investors?
This news could bode well for investors too. Express Deals is a simple process that works great on mobile devices, and with more travel booking happening on mobiles, this feature should be effective. Priceline already has a good hold on customers with respect to pricing and inventory, and the increased ease of use should help keep existing customers while attracting new users to the company's site.
Notably, Priceline makes up 3% of the holdings of the PowerShares DWA Momentum Portfolio (PDP).
Continue to the next part for a close look at Priceline's key metrics.