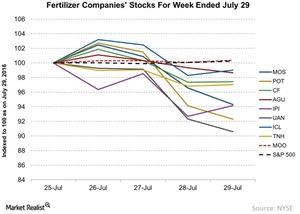 Which Fertilizer Stock Was the Top Loser Due to Price Movements?
By Adam Jones

Updated
A negative week?
For the week ended July 29, 2016, most fertilizer stocks were in negative territory. But the relevant benchmark ETF, the VanEck Vectors Agribusiness ETF (MOO), ended the week slightly up by 0.34% to close at $49.10 per share.
Similarly, the S&P 500 Index (SPY) ended the week up slightly by 0.24%. Let's see how some of the major agricultural fertilizer producers performed last week.
Article continues below advertisement
Stock declines
Last week, CVR Partners (UAN) emerged as the top loser with its stock falling by 9.4%,[1. All returns are rounded to the nearest tenth.] closing at $7.30 on July 29, 2016. PotashCorp (POT) was next, falling 7.7% and closing at $15.60 during the week. The fall came after it disappointed the market in its 2Q16 earnings and sparked more concerns for the agricultural market. You can read more about PotashCorp's earnings at PotashCorp Falls after Meeting 2Q16 Estimates: What's Missing?
In light of PotashCorp's earnings, it's not surprising to see two other potash producers, Intrepid Potash (IPI) and Mosaic (MOS), fall 5.8% to $1.30 per share and 5.7% to $27 per share, respectively, during the week.
Nitrogen producers Terra Nitrogen (TNH) and CF Industries (CF) fell 3% to $107.50 and 2.6% to $24.70, respectively. Agrium (AGU) and Israel Chemicals (ICL) both saw their stock fall 1.4% to $90.80 and 1% to $4, respectively.
Let's see how all these stocks have performed YTD (year-to-date).
YTD performance
YTD, Intrepid Potash and CF Industries continue to remain the worst performers, with their stocks falling 58% and 39%, respectively. PotashCorp has fallen 10% YTD, and CVR Partners (UAN) has fallen 8.3%. Mosaic is in negative return territory, and Israel Chemicals has fallen 2.4% YTD.
In contrast, Agrium and Terra Nitrogen are the only two companies in our above graph that have positive returns of 2% and 2.9%, respectively. The VanEck Vectors Agribusiness ETF has risen 7%, and the S&P Index has risen 8% YTD.
Series overview
Fertilizer prices are one of the key drivers for fertilizer stocks. So investors and analysts watch fertilizer prices closely. In this series, we'll see how nitrogen, phosphorus, and potassium prices and raw materials changed during the week ended July 29, 2016. We'll start with ammonia prices.