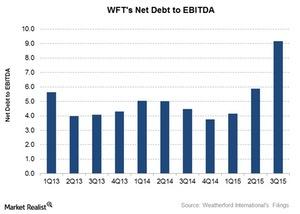 Is Weatherford International in Danger of Bankruptcy?
By Alex Chamberlin

Updated
Weatherford's debt restructuring and credit rating downgrade
On June 10, Weatherford International (WFT) announced the issuance of $1.5 billion in debt. WFT plans to use the proceeds from this new debt to finance repayment of debts issued earlier. On May 13, credit rating agency Moody's downgraded Weatherford International's (WFT) Corporate Family Rating (or CFR) bonds and WFT's bonds with high default risk rating.
Moody's downgraded Weatherford International's CFR bonds from Ba3 to B1. According to Moody's, obligations rated B are considered speculative and are subject to high credit risk. In May, Fitch Ratings, another credit rating agency, also downgraded WFT's long-term issuer default ratings and senior unsecured ratings.
Article continues below advertisement
Weatherford International's (WFT) net debt to TTM (or trailing-12-month) EBITDA (earnings before interest, tax, depreciation, and amortization) shot up between fiscal 4Q14 to fiscal 3Q15. In fiscal 4Q15 and fiscal 1Q16, Weatherford International's net debt to EBITDA multiple was not meaningful because its EBITDAs was negative in the last two quarters. Halliburton's net debt to EBITDA was also not meaningful in 1Q16 as a result of HAL's negative EBITDA.
What's the rationale for a downgrade?
Moody's credit rating downgrade reflects Weatherford's cash flow constraints and possible liquidity concerns. Moody's expects WFT's reliance on external sources of capital associated with debt repayment to increase in the future. Upstream capital spending is expected to stay weak while drilling activities will remain muted until 2017. This will constrain cash flows of oilfield service companies (or OFS) like Weatherford International, which could increase their reliance on external sources of capital and pressure credit metrics. WFT makes up 3.2% of the iShares US Oil Equipment & Services ETF (IEZ). The Oil & Gas Equipment & Services industry makes up 77% of IEZ.
How does WFT plan to repay debt?
Weatherford International expects its net debt levels to fall below $6.0 billion by the end of fiscal 2016. The company has $2.9 billion of bonds maturing between 2017 and 2020. The company plans to finance this through:
$600 million to $750 million per year of free cash flow for each of the next four years
significantly lower capex growth through 2019
The divestment of land rigs is expected to fetch $500 million to $1 billion in the next three years.