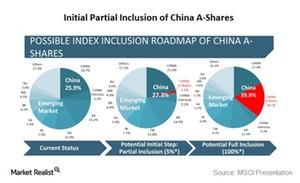 Why Is It important for China to Be Included in the MSCI Index?
By Lynn Noah

Updated
International recognition
China's equity market is among the world's largest in terms of capitalization, but it is not recognized as such due to its closed economy and tight capital control norms. However, China (MCHI) (FXI) has started relaxing its capital control norms to find a place in MSCI's Emerging Market Index, or EMI, which would not only provide international recognition but also boost China's credibility in the eyes of overseas investors. Thus, inclusion in MSCI's EMI would be an important milestone for China in opening its economy while allowing it to take a bigger role on the global stage.
Article continues below advertisement
Capital flows
MSCI's EMI has approximately $1.5 trillion of assets benchmarked to it, according to Goldman Sachs. The inclusion of A-shares in the index is expected to attract overseas capital in the long term. Initially, MSCI proposed to include a 5% market capitalization of A-shares into the EMI, which could translate to a 1.1% weighting in the index. Once it sees signs of further easing of restrictions in capital mobility and accessibility, MSCI could eventually boost allocation to 100%.
According to a research report by CICC (China International Capital Corporation), the initial stage of inclusion may lead to a small capital inflow of $21 billion, which makes up only 0.3% of the market value of A-shares. However, once full inclusion occurs, the shares' weight in the EMI would be around 40%, representing an inflow of $360 billion. China's equity market, with a value of $6.3 trillion, is one of the world's largest in terms of capitalization.
Positive for China's stock market
The MSCI EMI already includes Chinese shares listed in New York and Hong Kong, but confusion over China's exchange rate policy and its economic downturn has kept many foreigners away from yuan-denominated A-shares.
Inclusion of A-shares in the EMI would boost the confidence of foreign investors. Thus, they may consider investing in high-quality A-shares, which, in turn, would improve liquidity and transparency in equity markets.
From the next article onward, we'll look at some of the key economic indicators released last week, starting with China's industrial production data for May.