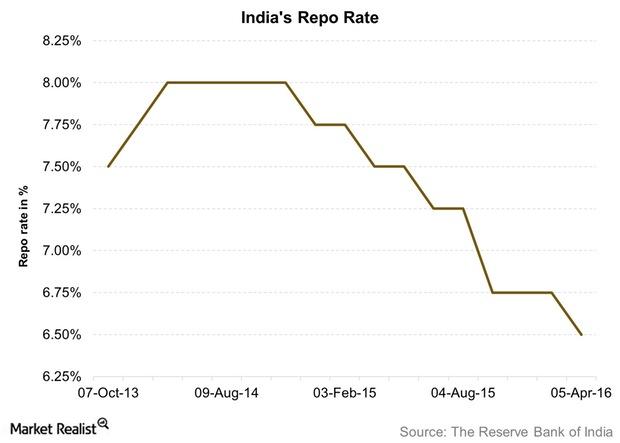 Why Did the Reserve Bank of India Cut Interest Rates?
An expected move
The RBI's (Reserve Bank of India) move to reduce key interest rates in India in April was expected. Financial markets had been anticipating this move since the government announced the Union Budget on February 29. There were two primary reasons for the reduction:
the level of inflation in India
the government's adherence to fiscal prudence
The RBI had been mandated to keep the level of inflation below 6% until January 2016. The central bank was successful in doing that, thus prompting the central bank to ease its monetary policy further after having maintained the inflation level between December 2015 and February 2016.
Article continues below advertisement
The second reason was the government's adherence to its fiscal deficit target, which was announced in the Union Budget. India's fiscal deficit for 2015–16 was estimated to be 3.9% of the GDP (gross domestic period). In India, the financial year begins in April and ends in March of the following year. The target for 2015–16 seemed near impossible at the time.
More importantly, the finance minister, Arun Jaitley, decided to stick to a fiscal deficit target of 3.5% of GDP for 2016–17. The RBI mentioned in its policy announcements that further rate cuts will depend on the path of inflation as well as fiscal consolidation. A high fiscal deficit, which would have meant more government spending in India's case, would have put upward pressure on inflation, thus leading the RBI to hold on to interest rates rather than reducing them and risking a surge in inflation.
Market reaction
As soon as the government announced that it was sticking to its deficit target, bond yields in India fell and equities rose (HDB) (IBN) (INFY) as market participants factored in a rate cut. A lot of them believed that the RBI could reduce rates before the policy announcement on April 5. However, being a conservative institution, the RBI decided not to move intra-policy.
Now let's see how markets reacted (PIN) (MINDX) when the RBI did decide to reduce rates on April 5.