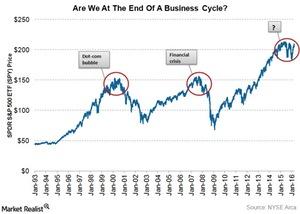 Are We at the End of a Business Cycle?
Are we at the end of the current business cycle?
An early contraction, middle bear phase seems to suggest that we are near the end of the current business cycle. We're now seven years into the 2007–2009 financial crisis stock market bottom.
According to the National Bureau of Economic Research, there have been 11 business cycles from 1945 to 2009, with the average length of a cycle lasting about 69 months, or a little less than six years.
Article continues below advertisement
Market magnates see a market reversal in the cards
A look at the historical trend of the US stock market (SPY) (IVV) (VOO) suggests that we're in a range-bound phase that has historically been followed by a crash.
Market magnates haven't held back their opinions on the topic. Jeffrey Gundlach, David Tepper, Bill Gross (JNS), and Carl Icahn have all been quite vocal in warning investors about a market reversal.
Excessive debt may have dire consequences
The buyback spree that we've seen recently has led companies to go beyond their cash flows. As a result, companies have been using debt to finance expenditures. With cheap money available, US companies' borrowing rates have surpassed their earnings rates. Companies such as Apple (AAPL), Prudential Financial (PRU), and IBM (IBM) have been the frontrunners in the share buyback race.
This phenomenon, as Barclays' Jonathan Glionna has observed, is very typical of the end of a cycle. During this stage, one tends to see financing conditions tightening for companies that have been relying on debt (BND) to finance their expenditures and buybacks to drive up earnings. The excessive debt taken on by US corporations is sure to affect economic growth and prosperity.
Does this mean we're heading toward a recession? Let's find out.