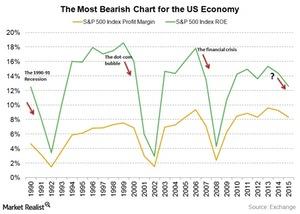 Why the S&P 500 Net Profit Margin May Predict a US Recession
The strengthening dollar is weakening earnings growth in the United States
The strengthening dollar has been affecting earnings growth in the United States (SPY)(QQQ)(IWM). From industrials to financials, energy to consumers, no US economic sector has remained untouched by the currency war.
US multinational corporations such as Quanta Services (PWR), Avon Products (AVP), and ExxonMobil (XOM) have huge foreign exchange exposure. As a result, these companies have suffered huge losses on account of the ongoing currency war that has led to a rise in the US dollar (UUP).
We often hear the Fed talk about macroeconomic indicators as a factor they look into while taking monetary policy decisions. The stock market, which is considered a leading indicator of an economy, is one factor the Fed "pretends it doesn't look at," says Jeffrey Gundlach.
Article continues below advertisement
Jeffrey Gundlach presented "the most bearish chart for the U.S. economy"
However, in his recent conference with investors, investment baron Jeffrey Gundlach didn't fail to highlight the importance of the stock market as an indicator. In a chart (above) he called "the most bearish chart for the U.S. economy," Gundlach pointed to the trend in S&P 500 earnings growth. Over a good four decades, the S&P 500's net profit margin has fallen notably when the economy was on the verge of, or already into, a recession. The dips in the S&P 500's profit margin and ROE (return on equity) have either coincided with or led to recessions: the 1990–91 recession, the dot com bubble, and the financial crisis. Does the current dip in profitability mean something?
Is another recession in the cards?
The current year is seeing a similar fall in the S&P 500's (SPXS) net profit margin. Could this be an exception, or are we seeing another recession? "The real question mark," according to Gundlach, "is whether earnings will go up in 2016." However, with the dollar expected to continue its upsurge and commodities showing no signs of reversal yet, it seems unlikely that earnings growth will change course in the near term.
If you believe the S&P 500's (SPXL) surge over the past couple of years is a good predictor of economic growth, you might want to read Bill Gross Believes 'Every Asset Price Is Artificially Elevated'.
Gundlach also discussed the negative correlation we're seeing between the stock and bond markets today.