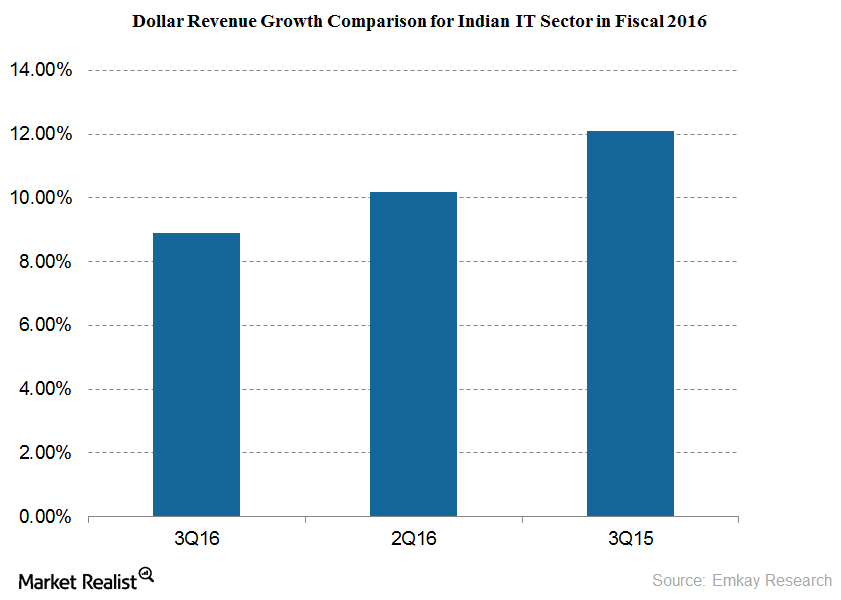 How Indian Brokerage Houses View the Domestic IT Sector in Fiscal 3Q16
By Adam Rogers

Jan. 13 2016, Updated 8:07 a.m. ET
Revenue growth expected between 4.8%–8.5% in large-cap firms
On January 3, 2016, Religare Institutional Research projected that revenues of large-cap IT sector firms in India (INDA) would likely grow between 0.3%–1.1% QoQ (quarter-over-quarter) in fiscal 3Q16, which ended December 31, 2015, while Centrum Capital expects a "tepid dollar revenue growth" in the range of 0.3%–1.1% QoQ. Revenues for market leaders such as Tata Consultancy Services (or TCS), Infosys (INFY) and Wipro (WIT) are expected to grow in the range of 0.5–1.3%, 0.4%–1.1%, and 0.3–0.7%, respectively, in fiscal 3Q16.
Article continues below advertisement
Kotak had one of the weakest quarters in recent times
Kawaljeet Saluja and Jaykumar Doshi, analysts from Kotak, expect Kotak's fiscal 3Q16 to be "one of the weakest in recent times" for the Indian IT sector, and these analysts project weak revenues to negatively impact profit margins by as much as 20–125 basis points on a QoQ basis.
According to a report on January 4, 2015, Emkay Research predicts YoY (year-over-year) dollar revenue growth to fall to 8.9% in fiscal 3Q16 from 10.2% in fiscal 2Q16 and 12.1% in fiscal 3Q15, making it the ninth consecutive quarter of "moderating revenue growth" in the Indian IT services sector.
The Emkay report also stated that Kotak's "current revenue growth expectations for March 2016 quarter imply that this declining revenue growth trajectory could reverse starting next quarter."
Centrum, Infosys, and Wipro
For the fiscal quarter ending March 2016, Centrum Capital expects Infosys's dollar revenue growth to be in the range of 4.8%–8.5%, with Infosys likely to post the highest growth rate and Wipro likely to post the lowest growth rate. Analysts expect the strong US dollar to impact revenues by 35–60 basis points in fiscal 3Q16.
Infosys constitutes 6.2% of the First Trust ISE Chindia Index Fund (FNI). The top holdings of this ETF include Baidu (BIDU) and China Mobile (CHL), which make up 6% and 4.6% of the ETF, respectively.
Now let's look at Infosys's analyst recommendations.