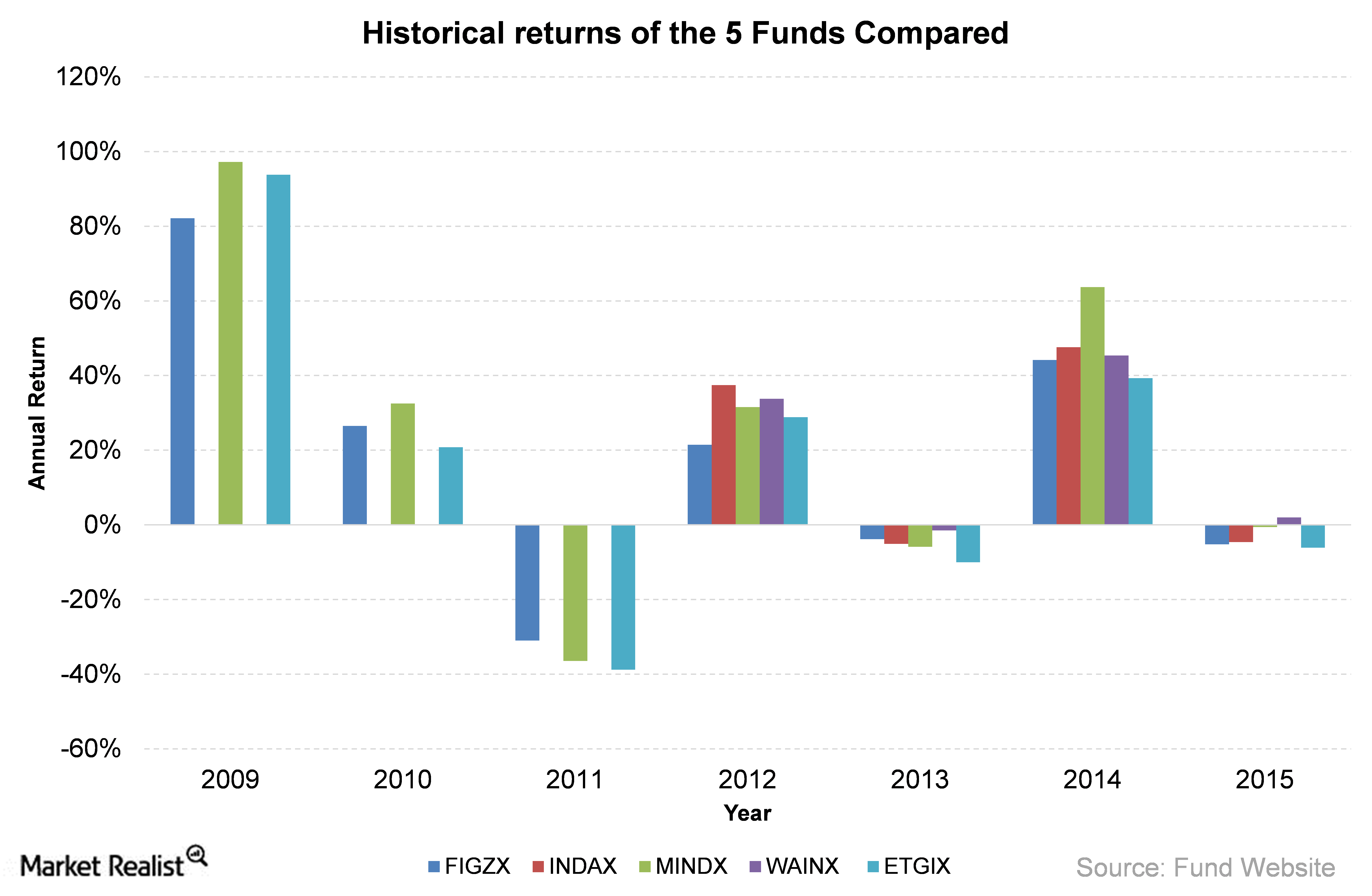 How Does the Matthews India Fund Compare to Its Peers?
By Pete Raine

Nov. 20 2020, Updated 1:47 p.m. ET
MINDX and its peers
We have reviewed and analyzed the Matthews India Fund (MINDX) structure and returns in the previous articles. However, to appreciate the performance of the fund better, it will be helpful to view it in the context of its peers. In this part, we will compare MINDX to four other similar India-focused funds: the ALPS Kotak India Growth Fund (INDAX), the Wasatch Emerging India Fund (WAINX), the Eaton Vance Greater India Fund – Class A (ETGIX), and the Franklin India Growth Fund (FIGZX).
Article continues below advertisement
Comparing the returns
The chart above gives a comparative picture of the returns of the funds for the last seven years. The trend of rises and falls is similar for all the funds. For example, 2009 was the best year and 2014 was the second best year for all funds. Similarly, 2011 was the worst year for all funds in existence then.
The chart above compares the returns of the funds over different periods as of the end of 2015. MINDX has given the highest returns since inception.
Other factors compared
As of December 31, 2015, MINDX has the lowest holdings turnover among the five funds. The holdings turnover of a mutual fund is the measure of the frequency of change in portfolio holdings. A high turnover is an indicator of the fund being more actively managed and the portfolio holdings being changed more frequently. Additionally, a high holdings turnover will lead to a higher expense ratio. Among the five funds, MINDX has the lowest expense ratio of 1.1%. MINDX has been in existence since October 2005 and is the second oldest fund after ETGIX. MINDX's net assets as of the end of 2015 were $1.5 billion, the highest among the five funds.
All the five funds have their highest exposure to financials (IBN) (HDB). The funds also have significant exposure to the healthcare (RDY) sector.
For more insight into mutual funds, please visit Market Realist's Mutual Funds page.