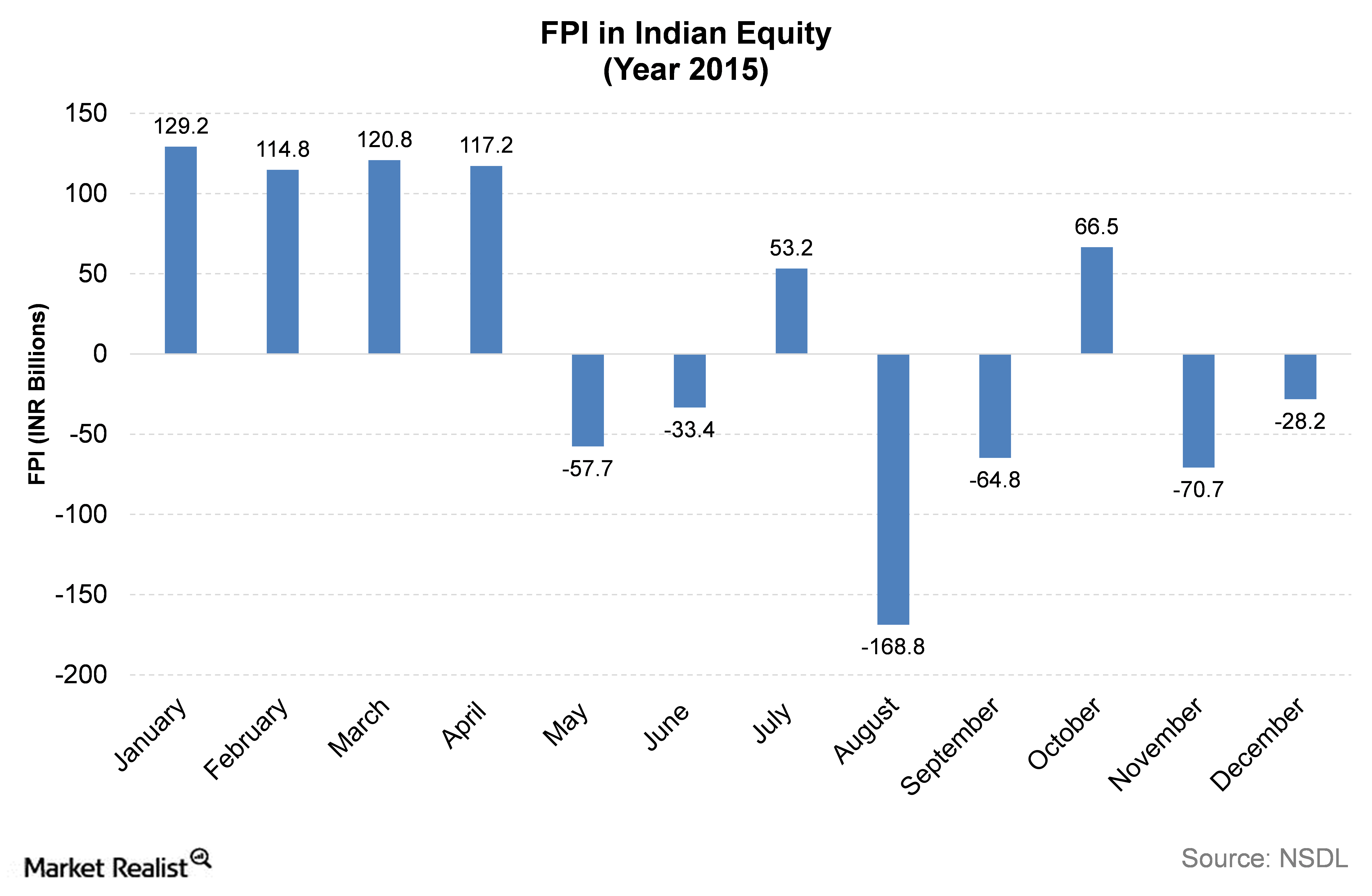 FPI in Indian Equities Remained Volatile in 2015
By Pete Raine

Jan. 8 2016, Updated 1:57 a.m. ET
Easier FPI norms in India
The FPI (Foreign Portfolio Investment) in a stock market is the net investment, or the gross purchases minus gross sales. In fiscal 2015 and 2016, the government of India took several measures to boost foreign investments. India's fiscal year begins in April and ends in March of the following year.
The government's endeavors included attempts to bring more clarity to the tax treatment of the gains of the transactions in the securities market, the retrospective tax treatment, and FDI reforms (foreign direct investment) in various sectors. The country's FPI Regulations 2014 initiative is an effort to ease entry norms for foreign investors.
Article continues below advertisement
FPI inflows hit hard by global factors
The chart above shows the net FPI investments in India. The FPI values considered here include the equity segment only. After the first four months of an impressive net inflow of FPI, Indian equities lost a substantial investment of foreign money. August 2015 witnessed the highest exodus of foreign money from Indian equities.
The Chinese market crash, which provoked a global sell-off, was also reflected in this huge FPI exodus from India. The net FPI exit in August was higher than the net FPI of the whole year. The net FPI in the equity segment reported for the year was $3.2 billion. The net investment was negative in November and first half of December, owing to the anticipation related to Federal Reserve's rate hike announcement.
Which sector witnessed the highest FPI outflow?
Between December 1–December 15, 2015, the automobile (TTM) sector witnessed the highest net FPI inflow in equities. The net FPI was $296 million. The pharmaceuticals and biotechnology (RDY) sector witnessed the highest outflow of $294 million in the same period.
Financials (IBN) (HDB) witnessed an outflow of $218 million, which was the second-highest outflow. India-focused mutual funds like the Matthews India Fund (MINDX) have substantial exposure to the financials.