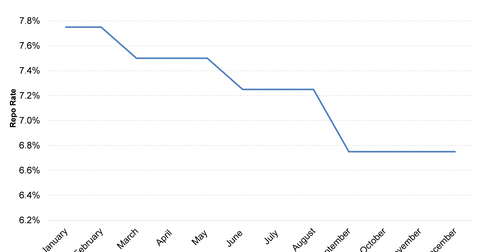 Is the Reserve Bank of India Anticipating a Rate Hike by the Fed?
By Pete Raine

Updated
Is the Fed set to move toward normalization of rates?
The Federal Reserve will announce its last monetary policy of the year on December 16 after a two-day meeting. Considering the key economic indicators—namely job growth, the economic growth rate, and inflation—there is a possibility that the Fed will announce a rate hike. In a speech on December 2, 2015, Janet Yellen, the Federal Reserve chair, said that the FOMC (Federal Open Market Committee) is comfortable with economic conditions and that there is a possibility of moving toward a normalized interest rate. A rate hike, however, may be detrimental to emerging markets, especially given the falling commodity prices.
Article continues below advertisement
How a Fed rate hike may affect India
A higher interest rate is favorable in attracting foreign investment. It may be one of the reasons that the RBI (Reserve Bank of India) did not lower the interest rate in its bimonthly review on December 1, 2015. The RBI kept the policy repo rate unchanged at 6.8%. The repo rate is the rate at which the central bank of any country lends money to commercial banks. The central bank's decision on the repo rate affects money supply, inflation, and the foreign investment scenario of the economy.
The chart above shows India's repo rate movement in 2015. Due to the possibility of a rate hike in the United States, the market in India is jittery. A rate hike in the United States can strengthen the dollar. For an emerging market like India, this might lead to an outflow of capital. The FPI (foreign portfolio investment) has already started showing such signs. Major stock indexes in India are also falling.
India-focused mutual funds
India-focused mutual funds like the Wasatch Emerging India Fund (WAINX) and the Eaton Vance Greater India Fund Class A (ETGIX) have their greatest exposure in the Indian financial sector. The top ten holdings of the ETGIX constitute large cap banking companies like ICICI Bank (IBN). The funds also invest heavily in the technology sectors (INFY) (WIT).