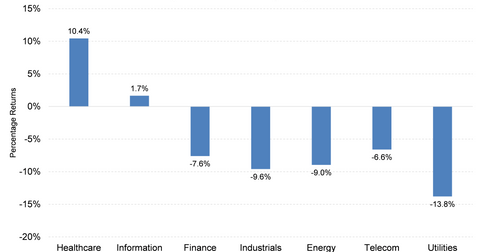 India's Healthcare Sector Has Stolen the Show in 2015
By Pete Raine

Updated
Returns compared
We looked at a broad overview of the sectoral indexes of the S&P BSE (Bombay Stock Exchange) in the previous article.
2015 has been a dismal year for all sectors in terms of returns. To get a comparative view of these returns, we'll consider the annual returns of the S&P BSE sectoral indexes.
The chart above reflects the last year of returns for all sectors of the BSE as of December 8, 2015.
In the last year, all the sectoral benchmark indexes except for Healthcare and Information Technology have given negative returns. Healthcare returned a superlative 10.4% in the period.
Article continues below advertisement
Why is healthcare the evergreen sector?
While there is slowdown and gloom in every other sector, Healthcare (RDY) has been able to provide a healthy return. The reason for this can be attributed to the evergreen nature of the sector.
Spending on healthcare is a basic necessity, and its consumption is non-cyclical. The rising amount of health insurance in India is also a reason for the healthcare sector's better performance.
Effect on mutual funds
The Wasatch Emerging India Fund (WAINX) is an India-focused fund. For the one-year period ended December 7, 2015, WAINX returned 1.3%. Another India-focused fund, the Eaton Vance Greater India Fund Class A (ETGIX), returned negative 10.2% in the last year.
The Franklin India Growth Fund (FIGZX) is also an India-focused fund. FIGZX gave a negative return of 7.1% in the last year. ICICI Bank (IBN), Infosys (INFY), and Wipro (WIT) form a part of the India-focused fund's portfolio.
For more details on mutual funds, please visit Market Realist's Mutual Funds page.