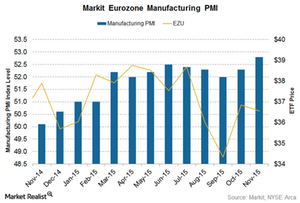 Credit Suisse and Barclays Are Bullish on European Equity for 2016
Credit Suisse forecasts European earnings growth to surpass the US
Credit Suisse (CS) strategists forecast 10% earnings growth in Europe versus a 6.8% growth expected from the US. Going into 2016, Credit Suisse expects to see more instances of shareholder activism from Europe.
Barclays (BCS) has also projected higher earnings growth for European stocks (VGK) vis-à-vis the US (SPY), the UK (EWU), and Japan (EWJ). Though Barclays does believe that the European economy remains exposed to the weakness in emerging markets (EEM) (VWO) demand, it also has faith in the resilience shown by economic indicators coming from the region.
Article continues below advertisement
Manufacturing and consumer readings have been resilient
The Eurozone manufacturing PMI has demonstrated a positive trend through 2015 as the chart above shows despite heightened global uncertainties at the time of the Greek (GREK) debt crisis and the low demand conditions across Europe and China (FXI). This is despite the fact that the depreciating euro has been affecting exports from the area. We've seen a measure of consumer confidence recover from a -10.9 level back in December 2014 to a -5.9 level as of November 2015.
However, considering the depreciating effect of the accommodative monetary policy stance on the euro, investors may want to consider ETFs such as the WisdomTree Europe Hedged Equity ETF (HEDJ), which provides exposure to European equity while hedging against the impact of currency volatility on returns.
While investors in euros may need to hedge their exposures well with the expectations of further depreciation, investors in US dollars may rejoice in 2016.