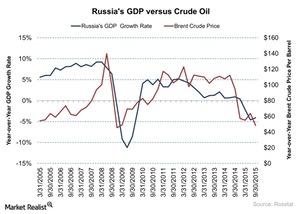 Russia Dependent on Prices of Crude Oil and Natural Gas
By Rabindra Samanta

Updated
Turmoil in OPEC
OPEC[1. Organization of Petroleum Exporting Countries], led by Saudi Arabia, isn't reducing the production of crude oil despite the oversupplied market. The organization doesn't appear to want to lose its share in the oil market to US shale producers. Moreover, experts feel that OPEC is experiencing trade challenges with Russia (RSX) in Asia due to the falling prices of crude, narrowing profit margins, and geopolitical issues. China's oil market was once dominated by Saudi Arabia, but now Russia leads there. Given this, the recent news of Indonesia (EIDO) rejoining OPEC can be an added advantage for the organization.
The extra demand rising out of Indonesia in 2014 was 2.1% of OPEC's output. Again, this will raise OPEC's output by 2.3%, making the organization control around 42% of the world's total production as per the statistics of 2014.
Article continues below advertisement
Russia's economy and the prices of crude oil and natural gas
The graph above illustrates Russian GDP growth year-over-year and Brent crude oil price over the last ten years. According to Russia's state statistics, in 2014, mining energy-producing minerals attracted 14.7% of the total fixed capital investment in the country. As per the EIA[2. U.S. Energy Information Administration], in 2013, crude oil constituted 68% of total exports and 16.4% of GDP. Also, Europe (FEZ) and Asia account for a significant portion of Russia's crude and natural gas exports. Russia's main trading partners are Germany and China. In 2014, Russia (RSX) exported 4.7 million barrels per day of crude oil and lease condensate.
The Russian economy highly correlates to oil prices. Experts have observed that when crude oil prices plunge, the Russian economy contracts. Russia's Gazprom Pao (OGZPY) has fallen 7.5% on a YTD (year-to-date) basis while Lukoil (LUKOY) is flat. On the other hand, Tatneft (OAOFY) rose 24% on a YTD basis.