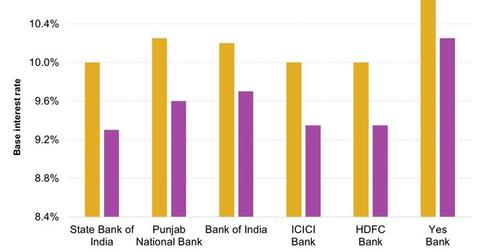 Did the Reserve Bank of India Reduce Borrowers' Loan Burden?
By David Ashworth

Updated
Front-loaded policy action
As we discussed in the previous articles in this series, the pass-through of the rate cuts by banks to the general public is an important concern for the Reserve Bank of India (or RBI). According to the RBI, "The median base lending rates of banks have fallen by only about 30 basis points despite extremely easy liquidity conditions." This is less than half of the 75-point reduction in the repo rate in 2015 before the RBI announced the September rate cut.
Article continues below advertisement
The "front-loaded" repo rate cut the Reserve Bank of India announced has signaled banks to reduce their respective base rate. The base rate includes all lending rates that are common across all kinds of borrowers. It is the rate below which a bank cannot lend. This system has been in place since July 1, 2010. In the graph above, the first three banks are public sector banks while the remaining three are private sector banks.
As you can see, most banks have reduced their base rates by 20-25 basis points. However, public sector banks like SBI (State Bank of India) and PNB (Punjab National Bank) have reduced their base rates by 40 basis points, which means that 80% of the latest rate cut will be passed on to consumers. Some of these rate cuts were in effect from October 1, while others will come into effect on October 5.
Article continues below advertisement
Impact on investors
A reduction in the base rate will make loans cheaper for consumers. At the same time, it will provide less incentive for people to save compared to the past, as fixed deposit rates will drop as well. With fewer reasons to save and more reasons to spend, consumer spending is expected to grow. This will positively impact the gross domestic product (or GDP) of India. Putting India's economy back on a high-growth path is one of the key aims of the present government.
Apart from pushing consumer spending, banks like ICICI Bank (IBN) and HDFC Bank (HDB) are expected to benefit due to a higher loan offtake. The rate cut may also have an impact on revenues of companies like Infosys (INFY) and Wipro (WIT), which do outsourcing work and bill their clients in US dollars. Policy level changes could also impact mutual funds like the Wasatch Emerging India Fund (WAINX) and the Franklin India Growth Fund Class A (FINGX).
In the next article, let's see how Indian equities reacted after the RBI's September statement.