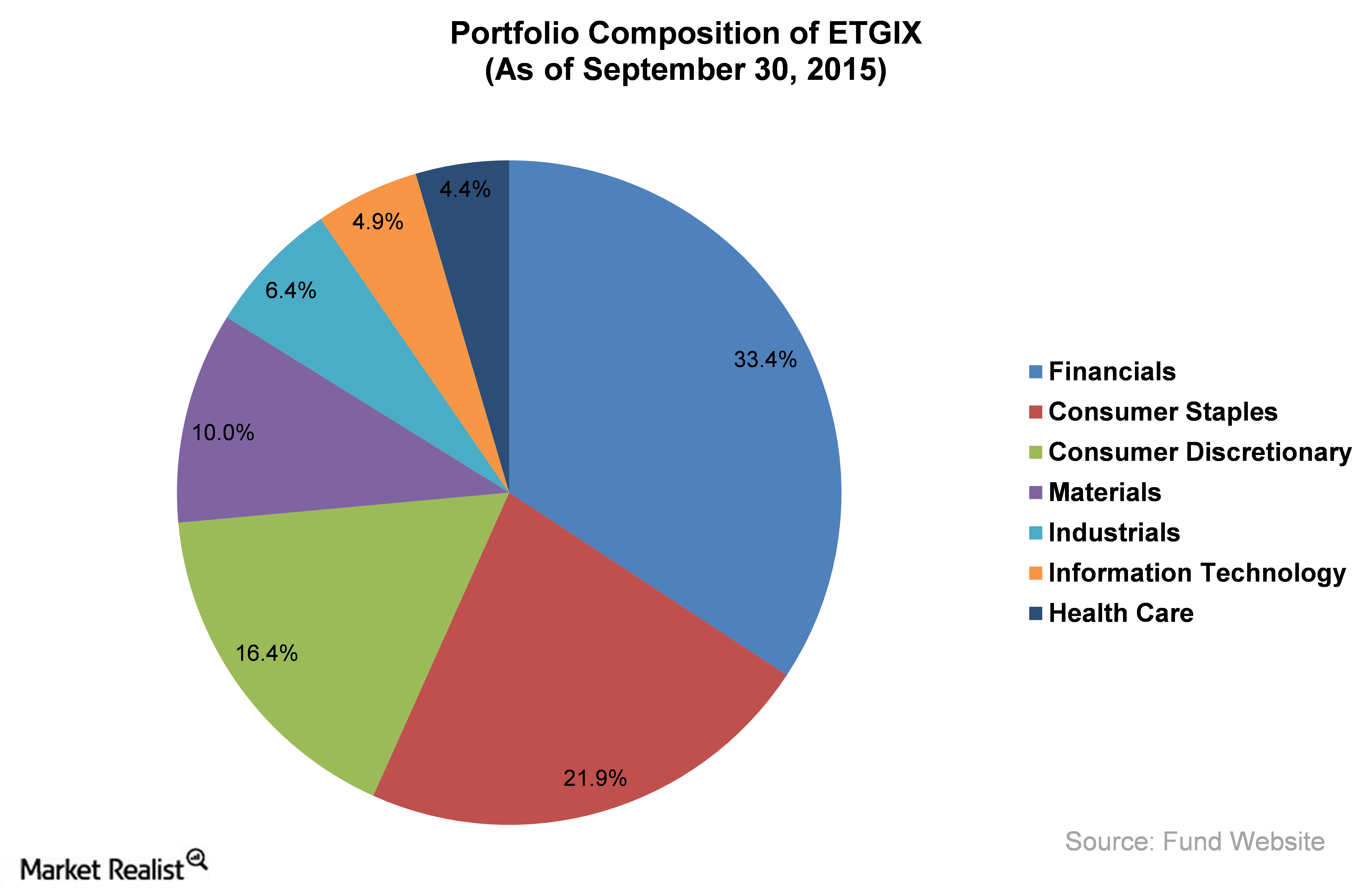 How Has the ETGIX Performed?
By Pete Raine

Oct. 29 2015, Updated 11:07 a.m. ET
Portfolio composition 
The Eaton Vance Greater India Fund Class A (ETGIX) is an equity fund that invests in Indian equities. The ETGIX invests in growth funds with the aim of long-term capital appreciation. In terms of market capitalization, the fund invests in securities across market caps. The fund has a diversified portfolio with investments in seven different sectors. As per portfolio holdings released for September 30, 2015, the fund has no investment in the energy, telecommunication services, and utilities sectors. In terms of sectoral exposure, financials have the maximum share, making up 33.4% of the fund's portfolio. Information technology has a smaller share of 4.9%.
Article continues below advertisement
The ETGIX has a small portfolio, comprising of only 33 holdings. As of September 30, 2015, the top ten holdings of ETGIX formed 46.8% of the portfolio. The top ten holdings constitute large-cap companies like ICICI Bank (IBN), which is the largest private sector bank in India. The HDFC Bank (HDB) is a major competitor of IBN. Infosys (INFY) is a major player in the technology domain with a 1.7% weight in ETGIX's portfolio.
Analyzing ETGIX's returns 
The chart below gives a snapshot of the average annual returns of the fund. As of September 30, 2015, the fund has given a return of 2.8% for the one-year period. The fund has been in existence since May 2, 1994. On an annual average basis, the fund has returned 9.2% since inception. On a YTD (year-to-date) basis, as of September 30, 2015, the fund gave a negative return of 1.8%.
The following chart gives a comparison of the historical returns of the fund and that of its benchmark index.
2009 was the best year for the fund with returns of 93.8%. The S&P Bombay Stock Exchange 100 is the fund's benchmark index. The fund has closely followed the benchmark index in terms of returns. In the next article, we will discuss another India-focused fund, the Franklin India Growth Fund (FIGZX).