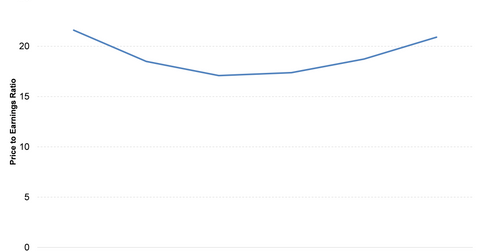 Assessing the Multiples and Dividend Yields of Key Indian Stocks
By Pete Raine

Updated
PE and PBV ratios: Valuations have been attractive
To understand Indian stocks' recent performance, it's important to take into account the PE (price-to-earnings) multiple. The PE multiple is the ratio of a company's current share price to its EPS, or earnings per share. Similarly, the PBV (price-to-book value) ratio is used to compare the company's market value of its equity to the book value. It's calculated as the ratio of the stock value to the book value of a share.
Both the PE ratio and the PBV ratio are relative measures. A lower value implies that a stock is undervalued and therefore preferable.
Article continues below advertisement
From historical data, we've plotted three different charts for the PE ratio, the PBV ratio, and the dividend yield for the last five years for key Indian stocks. The PE and PBV ratios were the lowest in fiscal 2013. In India, a fiscal year begins in April and ends in March of the succeeding year. The dividend yield was best in fiscal 2013. The PE and PBV multiples were low due to the falling market capitalization and moderate earnings growth.
Sector market capitalization
The following chart is a snapshot of the percentage breakup of the market capitalization for various sectors in the S&P BSE SENSEX (Bombay Stock Exchange) as of October 15, 2015. The finance sector has the highest percentage, at 31%. Similarly, the three India-based funds—the ALPS Kotak India Growth Fund (INDAX), the Matthews India Fund (MINDX), and the Wasatch Emerging India Fund (WAINX)—invest mostly in the finance sector, according to their most recently available reports.