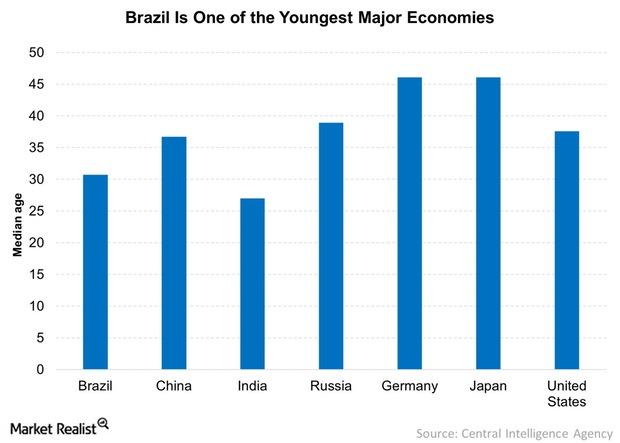 Why the Young Brazilian Population is Key to Brazil's Success
For investors looking to bottom fish, there is some hope. In the long run, Brazil has several things working to its advantage: a young population, a large and growing middle class, stable democracy and abundant natural resources. But in the near term, our outlook is not positive and hasn't improved since the October election. For one, we don't think Brazilian stocks are cheap enough to attract value investors. Despite trading roughly at 1.25 times the price-to-book value, the market was a bigger bargain back in late 2013 (in both absolute and relative terms). And without a clear catalyst, a stock rally is unlikely to happen. Last year's bounce back, while short-lived, was built on the possibility of change. Unless the current Dilma Rousseff administration focuses more on structural reforms and efforts to spur growth, the stock market will probably need to fall further before investors are willing to take another chance on Brazil.
Article continues below advertisement
Article continues below advertisement
Market Realist – The young Brazilian population could revive the economy.
The graph above shows the median ages for some of the world's major emerging (EEM) and developed markets (VEA). Brazil (EWZ) is second only to India (EPI), in the graph above, with median ages of 30.7 and 27 years, respectively. Both China (FXI) and Russia (RSX) have higher median ages of 36.7 and 38.9 years, respectively. Within developed markets, the US is relatively young with a median age of 37.6 years. Both Japan (EWJ) and Germany (EWG) have a median age of 46.1 years, which is the highest among major economies.
A younger population is a key demographic indicator to watch out for. A young population generally means more people in the workforce and, in turn, higher disposable income, which could drive growth. A young population could help Brazil get out of its rut—as long as the current government can create more jobs.
Read Investor must-know: Why Brazil faces challenges and opportunities for more on the key macro headwinds facing Brazil.