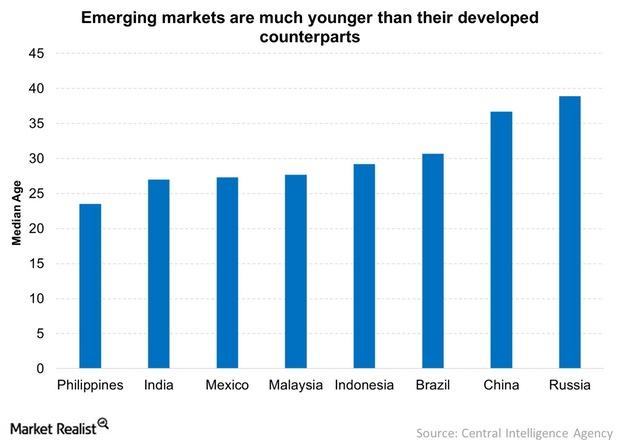 A Young Population Makes Emerging Markets Attractive
And with the graying of the US population set to accelerate, and more and more baby boomers set to retire, the downward trend in labor force participation is likely to continue. This suggests that US growth might be slower for a long time and that investors should have modest expectations for how fast the United States, and other developed markets also experiencing a similar demographic trend, can grow over the long term. It's also an argument in favor of increasing allocation to select faster growing emerging markets.
Article continues below advertisement
Market Realist – A young population in emerging markets makes them attractive, but beware!
The graph above shows the median age in a few major emerging economies (EEM). Except for Brazil (EWZ), China (FXI) and Russia (RSX), the other emerging markets in the chart have a median age of 30 years or less. The Philippines and India (EPI) are the youngest major emerging economies. They have median ages of 23.5 and 27, respectively. Germany (EWG) and Japan (EWJ) are much older with a median age of 46.1 each.
However, some of the emerging economies are facing a lot of headwinds. Chinese gross domestic product, or GDP, growth is slowing down. Commodity-driven economies, like Brazil and Russia, are dwindling due to low commodity prices. Economies like India and Indonesia are benefiting. They import a lot of oil (USO). Also, both of these economies are driven by consumer demand. This makes them less vulnerable to a global slowdown.
A young population implies a potentially large workforce. This is positive for consumption and eventually the economy.
The US has a median age of 37.6 years. This is lower than Germany and other major European economies (EZU). However, it's much higher compared to some of the emerging markets.
Read Market Realist's series 4 Factors Weighing On Labor Markets—And Implications For Fed Policy to learn more about the labor markets in the US.